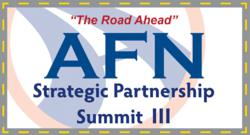 Chicago, IL (PRWEB) June 05, 2013
AFN, an award-winning logistics and supply chain company, is pleased to announce that retired LT. General Russel L. Honoré will give the keynote speech on Tuesday, June 11, at AFN's Annual Partnership Summit in Chicago. Honoré, perhaps best known for having led the recovery in the Gulf States after Hurricane Katrina, is currently a Senior Scientist with The Gallup Organization and also a CNN Contributor. He is the author of several books and articles about disaster preparedness and recovery. His speech at the AFN conference is titled "Leadership and Preparedness in the New Normal" and will focus on the ways in which businesses and individuals must prepare for, and react to, disasters.
"We're very honored to have the General agree to share his knowledge with us," said Michael Nervick, CEO of AFN. "His stated mission is to create a 'Culture of Preparedness' in America which is certainly a very relevant topic within the logistics and supply chain industry. The General's knowledge of the practices individuals and businesses need to put into place in order to be their own first responders is unparalleled. We're very fortunate to have him agree to share his expertise with our clients."
This is the third year that AFN is hosting this event for its clients which include many of the nation's largest and best-known retailers as well as the motor carrier companies that service their transportation needs. Nearly 75 delegates will attend educational sessions and workshops on topics related to the efficient and safe transportation of goods from manufacturers and retailers to store shelves. The conference draws clients involved in all aspects of the supply chain from around the country to Chicago.
For more information about General Russel L. Honoré, please link to his website, http://www.generalhonore.com.
About AFN
Serving motor carriers, manufacturers and retailers since 2003, AFN (formerly known as Advantage Freight Network) is an award-winning leader in freight brokerage, third party logistics and transportation management services. We are known for our commitment to client service, our proactive approach to fighting cargo theft and our expertise in retail compliance. To learn more about AFN, visit http://www.loadafn.com or call 877-LOAD-AFN.