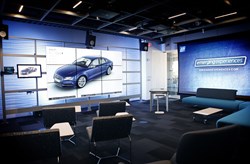 New York, NY (PRWEB) June 04, 2013
What: Razorfish, one of the world's fastest growing digital and technology agencies, today opened their second digitally interactive lab, located in San Francisco. The first lab was opened in Atlanta in late 2012. Run by the agency's Emerging Experience practice, the lab is intended to allow current and potential clients to witness and test state-of-the-art marketing-centric tech bells and whistles.
When: Doors open on Tuesday, June 4, 2013.
Where: The lab is located at the Razorfish San Francisco office, located at 2001 The Embarcadero, San Francisco, CA 94133.
Who: Razorfish invites members of the media to schedule lab visits by reaching out to the media contact below.
Why: This is the second in a series of labs Razorfish is opening. Future target cities are New York, London and Shanghai.
How: The 1,000 square foot San Francisco lab will tout tech innovations including 4k projection; 7.2 surround sound; synchronized "mood setting" consisting of integrated audio, video, lighting, shading and projection and global video conferencing.
Media Contact:
Isabelle Brenton
Isabelle.brenton(at)razorfish(dot)com
212.798.6662 (o) 781.254.9208 (m) @isabellebrenton (t)