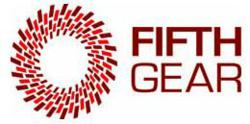 The end result is greater flexibility, better performance, and more efficient operations.
Indianapolis, IN (PRWEB) June 04, 2013
Fifth Gear, a provider of outsourced fulfillment services, contact centers, retail technology, and marketing services for direct-to-consumer retailers, announced today that it has developed integrations between its proprietary order management system and three industry-leading ecommerce platforms: BigCommerce, Magento, and Kalio.
These integrations connect retailers' online stores with Fifth Gear's fulfillment and customer care services, enabling accurate, high-touch operations through the entire order experience. Key features of these integrations include real-time order processing, enhanced order status tracking, customer account creation, and inventory syncing that ensures accurate inventory availability across the contact center, online store, and warehouse. Additionally, Fifth Gear announced that it will offer progressive tiers of support for integrated customers that will allow retailers to choose the level of technical support, hosting services, and site design assistance that suits their needs.
"We chose BigCommerce, Magento, and Kalio as technology integrations because these platforms have the robust features and the proven reliability that online merchants need in today's ultra-competitive environment," says Fifth Gear President Matt Konkle. "Not only do these integrations provide new ecommerce options for existing Fifth Gear clients, but they also give current users of these platforms the ability to connect quickly with Fifth Gear's outsourced business model. The end result is greater flexibility, better performance, and more efficient operations."
Fifth Gear will answer questions and talk with interested retailers about its new integrations in Booth 1821 at the Internet Retailer Conference and Exhibition in Chicago June 4-7, 2013. For more information about Fifth Gear's ecommerce integrations, please visit http://www.infifthgear.com.
###
About Fifth Gear
Fifth Gear (http://www.inFifthGear.com) provides outsourced order fulfillment, contact center care, retail technology and marketing services to specialty retailers and manufacturers of consumer products. The Company serves as a single source partner to its clients, providing access to the industry expertise, infrastructure and technology they require to drive revenue growth. Fifth Gear is privately-held and headquartered in Indianapolis, IN, with additional locations in Louisiana, MO, Moberly, MO and Hazle Township, PA. The Company serves over 75 ecommerce and catalog retailer brands today and continues to expand its portfolio of unique offerings for its direct-to-consumer retail clients.