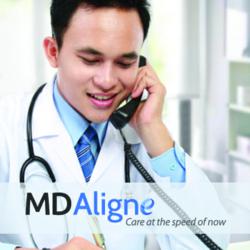 I am confident that we will deliver on our promise to improve health services access, convenience and affordability and I am very excited to be part of this team. - Marc Rubinger, COO of MD Aligne
Conshohocken, PA (PRWEB) June 04, 2013
MD Aligne, a leading provider of Telehealth services, is proud to announce the appointment of Marc Rubinger as Chief Operating Officer (COO). Rubinger brings three decades of healthcare and technology experience to the management team. As COO, Rubinger will manage and oversee MD Aligne's growth and strategic initiatives.
CEO of MD Aligne, John R. Palumbo, is confident that Marc Rubinger is a strong addition to the Senior Leadership Team. "The core of MD Aligne is built on the seamless marriage of health services and technology", explains Palumbo. "Marc Rubinger's professional career has given him the insight, expertise and deep understanding to successfully lead these initiatives, creating solutions that maximize health access and convenience for our customers."
Throughout his career, Marc Rubinger has been a leader and innovator in the world of healthcare and technology. Prior to joining MD Aligne, Rubinger successfully ran a boutique health and technology consulting firm where his vision and expertise assisted clients in generating positive returns from IT investments. Rubinger also served as Senior Vice President of Business Services and Chief Information Officer with Genesis Health, a $3B healthcare services company. Previous roles also include Senior Operations Executive with Shared Medical Systems (now Siemens Medical) and a National Partner at Ernst & Young – Healthcare.
Rubinger is enthusiastic about his new position at MD Aligne, saying "This is not only a great opportunity with a great company, but it's also about being involved with positive change for our health system. I am confident that we will deliver on our promise to improve health services access, convenience and affordability and I am very excited to be part of this team."
Marc Rubinger received his Master's Degree in Planning and Health Management from The George Washington University. In addition to his position at MD Aligne, Rubinger serves on two boards of directors and has been an investor/board member for two start-up software and consulting companies. Rubinger has also served as a member of The George Washington University Health Management Program Alumni Board, as past chair of the AHCA's Knowledge Management Committee and as a member of the AHCA's Policy Council.
About MD Aligne
MD Aligne is a new and better way to get the professional healthcare you need when you need it. MD Aligne offers healthcare resources via the telephone or web providing safe, convenient, and affordable access to remote caregivers utilizing our digital platform. As a web-based consumer health company, we deliver multi-device solutions for consumers to conduct health e-commerce for doctor consultations, medical advice and diagnosis, prescription and testing, and other healthcare supplies and therapies so our customers can manage their health, in their way, on their schedule.
According to a global survey, consumers are growing more comfortable with online doctor visits, with 70% of U.S. patients open to the idea and some studies are even showing better outcomes from telehealth than in person. For those health issues that do not require a face-to-face visit, our services are efficient and easy. Our digital and telephone doctor consultations give patients timely access to quality medical advice and the convenience of conversing with medical professionals 24/7, from home or work, reducing the total cost of the traditional medical office visit experience. For more information, visit mdaligne.com or call 1-888-738-5574.
Contact:
Taylar Cooney
Corporate Administrator
Tel: 484.784.4560