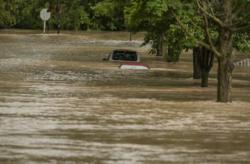 We're a small company, but we do what we can to help
Fort Wayne, Indiana (PRWEB) June 03, 2013
Fort Wayne home-repair businesses are likely overwhelmed and a number of appointments may have been canceled or rescheduled due to problems with buildings or transport. Consumers hoping to find an available service provider the old-fashioned way will reach a lot of dead ends and face long wait times with the most popular, well-advertised companies they are likely to find. Exploiting this, storm chasing door-to-door service providers often offer urgent repair help to steal customer's hard-earned cash and leave unfinished or shoddy work. That's why Indiana Attorney General Greg Zoeller listed those salesmen in his list of top 10 consumer complaints.
Fortunately, in over 50 service categories like Electricians, Carpet Cleaning, and Roofing, Seva Call connects consumers to the right pros in minutes, providing both speed and security. To hear from an available service professional in 90 seconds, residents simply visit http://www.sevacall.com and enter their location, availability, and a description of the problem at hand- being sure to enter #FortWayne to possibly qualify for a free gift card. Seva Call's algorithm filters through local businesses and picks the best matches based on proximity, availability, the job needed, and even quality control measures like online consumer ratings and reviews, social media interactions, call analytics, and other forms of consumer and business feedback. Stand by to hear from the first of three top-rated professionals who already know the problem at hand and want to help on each consumer's schedule. Plus, Seva Call keeps contact info private.
Seva Call will launch in Fort Wayne very soon to connect consumers to personal trainers, vets, massage therapists, and more with the same speed, security, and convenience. Plus, in the near future, the Seva Call team will launch its iPhone and Android app so that customers can enjoy the same instantaneous response to their service needs even when they are far from home- helping even more busy Fort Wayne residents.
Seva Call raised $1.3 million in Series-A funding and has launched in 36 cities across the United States including Miami, Atlanta, Birmingham, Baltimore, Philadelphia, Columbus, and Boston. Connect on Facebook, Twitter, and YouTube.