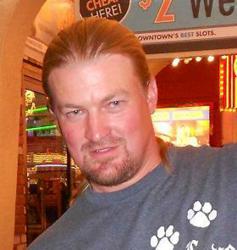 We are very excited to be able to give away such an inclusive prize pack to the players of our courses. We think it will be a fun contest to run every month from here on out.
Las Vegas, NV (PRWEB) June 11, 2013
Walters Golf is pleased to announce the winner of their May 2013 VIP Las Vegas Golf Vacation, Mike Hefflefinger. Visitors to any of the Walters Golf properties were invited to use their new, state of the art kiosks to enter and win an extensive, all-inclusive vacation package to Las Vegas. This prize pack includes four nights at the MGM Grand for two (airfare not included) and a complete set of Callaway X Hot clubs, which retail for over $2,000. Mr. Hefflefinger and a guest will also be receiving three rounds of Championship golf at each of the the Walters Golf courses: Bali Hai Golf Club, a South Pacific inspired golfer's paradise, located on the southernmost part of the world-famous Las Vegas Strip; Royal Links Golf Club, which features recreations of the best holes of the British Open rotation; and Desert Pines, a Pete Dye designed escape to the Carolinas.
About Walters Golf
Walters Golf, a division of The Walters Group, has become one of the fastest-growing and most widely respected golf companies in the country. From its first venture into the private country club market in 1995 to today's ownership and operation of top-quality, daily fee golf courses, Walters Golf continues their commitment to quality and profitability while offering customers excellent value.
Led by businessman and avid golfer Bill Walters, Walters Golf is known in the national golf industry for developing first-class golf facilities. According to Executive Golfer, Walters is "Nevada's leading golf entrepreneur" who "recognized the need for visitor and corporate friendly golf facilities and packages, and seized on the opportunity, investing millions in four magnificent properties."
In Las Vegas, the company owns and operates Bali Hai Golf Club, Royal Links Golf Club, Desert Pines Golf Club, Las Vegas Golf Getaways and Cili Restaurant.