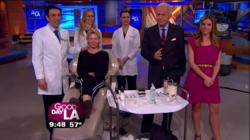 Los Angeles, CA (PRWEB) June 03, 2013
In an article entitled "Kim's Dangerous Addiction - Plastic Surgery While Pregnant," in the June 10, 2013 issue of InTouch Magazine, Dr. Simon Ourian is quoted several times, specifically advising pregnant women to stay away from elective cosmetic procedures. (Go to goo.gl/FaHm1).
When questioned about the advisability of pregnant women receiving Botox and dermal filler injections, Dr. Ourian, Medical Director of Epione Beverly Hills, replied: "No one has done enough studies to see if those drugs get to the placenta and baby. Most doctors recommend that women who are pregnant do not do any elective procedures."
Dr. Ourian was also asked to comment on Ms. Kardashian's apparent spray tanning. "Everything a pregnant woman puts in her body can get to the baby. There's one simple rule: Would I spray tan my 2-month-old baby? If you don't think you would, don't do it to yourself either." If one is going to spray tan despite this warning, it should be done in an open area with the expectant mother wearing a mask to limit the amount of spray that's inhaled.
Finally, Dr. Ourian gives his advice on gel wraps done at nail salons. Not surprisingly, Dr. Ourian's words are a warning for expectant mothers. "No one's done long-term studies to see how much of this material crosses the placenta," says Dr. Ourian. "All those products are harmful to the fetus."
Dr. Ourian has been a pioneer in laser technology and non-invasive aesthetic procedures including Restylane, Juvéderm, Radiesse and Sculptra. These treatments are used for the correction or reversal of a variety of conditions such as acne, acne scars, skin discoloration, wrinkles, stretch marks, varicose veins, cellulite, and others. More information about using cosmetic dermatology treatments can be found on Epione's website.