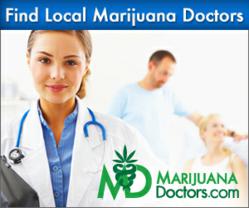 "Greenfield AME represents the same valued standards that our company has always reflected. MarijuanaDoctors only represents the finest healthcare facilities in the industry, and this location best reflects the compassion our company was founded upon."
(PRWEB) June 04, 2013
For the last four years, the compassionate crew at Greenfield AME has been serving as a primary medical marijuana evaluation and certification center for California's Proposition 215 medical marijuana patients. By providing both inquiring and current medical marijuana patients with a compassionate, legitimate and professional healthcare service that manages to better the wellness of thousands upon thousands of patients, this clinic deserves proper recognition among the industry. Today, MarijuanaDoctors announced Greenfield AME as a recent addition to an already solidified roster of reputable medical marijuana doctors. With a distinguished and trusted doctor now made readily available to patients in the Riverside, California area, this is considered a win-win for both parties.
Greenfield AME is a medical marijuana healthcare clinic that has a presence unlike any other certification center on the West Coast. One can easily notice what makes Greenfield AME different from the rest of its competitors. Whether it is a beautiful office space that's full of lush, leather seating or a customer-friendly Starbuck's coffee and tea bar, this location truly has it all. Greenfield's Riverside location also features Arrowhead water service, free Wi-Fi service for all patients, a double board-certified physician, a doctor of osteopathology and a scheduling system that provides patients with no need to wait around.
This location is truly considered a pain management specialty group and can provide the necessary alleviation tactics for nearly any problem that is presented. Aside from the services of medical marijuana evaluations, medical marijuana recommendations and medical marijuana certifications, Greenfield AME is an innovative healthcare facility that takes an in-depth approach to treating a patient's needs. After noticing that pain management at other locations was largely mishandled or counter indicated, the individuals behind Greenfield AME formulated a healthcare strategy that allows the practicing of pain management to function in a capacity to avoid problems. This location also does house calls for patients who are not capable of leaving their home and are in need of a compassionate service that can come to a place of residence.
It is evident that Greenfield AME represents a sense of true compassionate, legitimacy and the correct professional approach to healthcare that is needed in today's industry. This location even features an animal rescue program, a unique feature that no clinic has initiated to date. However, this is just another example of how compassionate and caring the individuals at this location are.
Every successful evaluation, every smiling patient and compassionate service that is provided represents the same values and standards that are practiced and preached at MarijuanaDoctors.com. For this, the patients in Riverside are in for a treat, and the team at MarijuanaDoctors has provided the industry with another successful marketing approach in order to tackle the West Coast's grey area problem, often referred to as the medical marijuana industry. As leaders, innovators and bona fide caring individuals, both of these parties are making strides towards bettering healthcare.