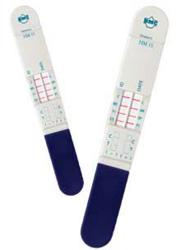 With HireSafe channeling this efficacy and efficiency, employment drug testing has never been so easy.
Elk Grove, CA (PRWEB) June 04, 2013
HireSafe - The Food and Drug Administration has approved the first-ever Oral Fluid Drug Testing Device for employment suitability.
Employment drug testing took a monumental step forward recently with the introduction and release of the Oratect HM-15 on-site saliva drug test. This new Oral Fluid Drug Screening Device is unique in that it's the only one that has been cleared by the Food and Drug Administration (FDA). This means that potential job applicants can be tested accurately and reliably, which assures that an employer will be able to select on-site from the most qualified pool of candidates. By adding this dynamic tool to the HireSafe background screening portfolio every job applicant will receive a compliant drug testing evaluation.
With this new product six major drugs of abuse are tested and screened for:

Methamphetamines
Marijuana
Cocaine
Amphetamines
Opiates
Phencyclidine
These six types cover the most-abused drugs in western society and this testing will identify substance abusers before they're on the payroll. The convenience of this format initially eliminates specialized labs dealing with urine or hair samples, as this test is administered on-site with the simplicity of a lollipop.
After the saliva sample has saturated the device the results are available for viewing in five minutes. This format has no gender issues and it virtually eliminates adulteration of the sample while providing the security of knowing the accuracy of the test is reliable. For those tests that are "non-negative" the individual device will need to be re-tested under scientific conditions in order to be compliant with federal and state hiring laws.
The applications where the Oratect Oral Fluid Drug Screen Device would be most effective is for pre-employment, random, post-accident and reasonable suspicion testing.
The Oratect HM-15, with its FDA 510K approval, has brought a revolution of ease and reliability to saliva drug-testing where it had previously been absent. With this new test, potential job applicants will be given a compliant testing opportunity while allowing simplicity and convenience for employers. With HireSafe channeling this efficacy and efficiency, employment drug testing has never been so easy.
Employers interested in learning more about the Oratect Oral Fluid Drug Screening Device can visit http://www.HireSafe.com/instant-drug-screening.aspx or call Al Firato at 1-888-792-4473 for more information.
HireSafe is one of the nation's highest rated background screening companies. In business since 1997, HireSafe is a full-line provider of Human Resource solutions, including Employment Background Screening, Drug Testing, Form I-9 Document Management with E-Verify and Applicant Tracking including Social Media Recruiting. As a CA licensed Private Investigative Agency, HireSafe provides only professional and FCRA compliant reports to their clients.
Source:
Instant Employee Drug Screening. HireSafe.com, Retrieved from
http://www.hiresafe.com/instant-drug-screening.aspx
510K Summary. AccessDate.FDA.gov, Retrieved from http://www.accessdata.fda.gov/cdrh_docs/pdf10/K103227.pdf
Oratect HM-15 Oral Fluid Drug Screen Device, FDA 510K Approval Date: April 26, 2012
Retrieved From http://www.brananmedical.com/events/news/MKT-062_A_Oratect_FDA_ApprovedPR.pdf