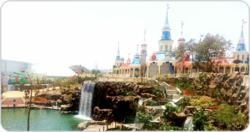 It was our vision to create an entertainment theme park of international standards in India and I am positive that this park will provide an immersive and wholesome family entertainment experience
Palm Expo India/Mumbai (PRWEB) June 10, 2013
Adlabs Imagica, the largest entertainment theme park in India, will empower experience beyond imagination for Indian visitors using 40 Christie® projectors, to present multiple animation and live-action films. Six of its top attractions leverage Christie technology exclusively to project razor-sharp images with ultra high brightness and detailed resolution to amplify the theme park experience.
In the "Prince of the Dark Water" attraction, a Christie DHD670-E and six Christie WU12K-M projectors enable visitors on a virtual dive to discover the ocean with larger-than-life mermaids swimming in a 360-degree dome film on a 3100-square-feet screen.
"The Curse of Salimgarh" utilizes a Christie DHD800 and seven Christie DWU675-E projectors to turn a haunted fort named after a Mughal-era fort in Delhi under the rule of Emperor Aurangzeb into a horror ride of macabre rooms filled with eerie creatures.
Inspired by "Mr. India," a Bollywood movie, the simulated adventurous ride on an iconic car takes visitors into the animated film to fight against the evil villain of Magambo. The simulation is powered by a Christie DHD670-E and three Christie Roadie HD+35K projectors, making it the most immersive experience in the theme park.
Under the "I For India" attraction, visitors will take an aerial ride for a stunning view of the gorgeous landscapes of India shown on a 90-feet wide screen projected by five Christie Roadster S+22K-J projectors.
The "Wrath of Gods" incorporates high-end technology with Indian mythological characters, leading visitors to a room with three gigantic idols of Indian gods via a hidden door. They are then entertained by a blend of live theater with special multimedia effects using four Christie DS+10K-M and seven Christie LX1500 projectors.
"Motion Box," an attraction due to be opened, will offer a simulation ride delivered by a Christie WU12K-M projector.
By offering a mix of story-play and live experiences unique to India, Adlabs Imagica aims to attract three million visitors in its first year.
"It was our vision to create an entertainment theme park of international standards in India and I am positive that this park will provide an immersive and wholesome family entertainment experience, something that each Indian will take immense pride in," said Manmohan Shetty, the chairman of Adlabs Entertainment Ltd. "I've had a good experience using Christie cinema projectors prior to the construction of Adlabs Imagica. When it comes to choosing projectors for the theme park, the utmost important factor is the reliability of the projection systems. For this, I could not think of anything else but Christie."
"Working with the client from the scratch of conceptual stage to planning and execution, it took us two and a half years to see through the success of this project," noted Rajesh Patkar, deputy general manager, Christie India. "We'd like to take this opportunity to thank Adlabs Entertainment Ltd. for the trust to appoint us as the exclusive projector supplier for the entire theme park."
"Adlabs Imagica is not only the first of its kind theme park in India but is also the largest installation for Christie in this country, where the theme park and experiential market is set to grow exponentially," said Lin Yu, vice president, Christie Asia Pacific. "We're proud to contribute to the success of the theme park with our vast installation covering 4D theaters, 360-degree projection and simulated rides that are of international standards."
Christie is showcasing its expertise in projection mapping at Booth #C69, Palm Expo India in Mumbai May 30 – June 1.
About Christie
Christie Digital Systems USA, Inc. a wholly-owned subsidiary of Ushio, Inc., designs, builds and installs customized projection display solutions. Christie® delivers turn-key solutions for sophisticated virtual reality, simulation systems and control room environments including high-resolution power walls, multi-sided immersive environments, curved screen displays, domed simulation and multi-projector arrays. Industries and organizations that rely on Christie range from government agencies to oil and gas, aerospace to entertainment, and manufacturing and design to pharmaceuticals. For more information, visit http://www.christiedigital.com.
For more information contact:
Christie
Shawn Tan
Public Relations Manager, Asia Pacific
Phone: + 65 6877 8761
Email: shawn.tan(at)christiedigital(dot)com
Christie is a trademark of Christie Digital Systems USA, Inc., registered in the United States of America and certain other countries.