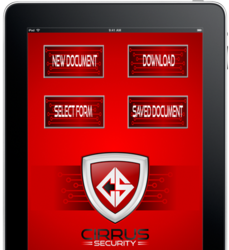 The visual evidence — the pictures and the video — just make it so much easier to relive the incident.
INDIANAPOLIS, IN (PRWEB) June 05, 2013
Cirrus Security App from Archon Apps gives security personnel the ability to report any incident — anywhere. The fully customizable iPad app's easy-to-use interface streamlines the reporting process and allows quick access to the right form at the right time.
ESG Security and Event Services has been using the app since 2012, debuting it inside the Super Bowl Village in Indianapolis. ESG President Mike Rose recently joined Cirrus Security App founder and CEO Tony Unfried to produce a video, which appears on the app's new website. ESG currently provides services for concert venues, convention centers and teams associated with the NBA, NFL, WNBA, U.S. Hockey League, Minor League Baseball, NASCAR, Moto GP and IndyCar.
"We use the Cirrus Security application at all the different venues," Rose says. "With Cirrus I'm confident that all our incident reports are going to be complete, neat, accurate, and they're going to meet the needs of our clients."
While Unfried's current focus is information technology, he brings an insider's perspective to why Cirrus Security App was necessary and how it performs. The Wabash College graduate with a master's degree in criminal justice was managing security at more than 25 venues before stepping away from the industry.
"When I was working security just a few years ago, every incident was recorded on a paper form. It could be messy, unorganized and slow to process. Cirrus Security App increases the accuracy and efficiency of incident reporting by capturing information and media on a fully customizable digital form," Unfried says. Users can then save a completed report to the cloud or send it to their home offices or venues for instant access.
"Every ejection or any incident we come across for our company, we fill out a report. And the reporting really saves us from litigation down the road," Rose says. "The visual evidence — the pictures and the video — just make it so much easier to relive the incident."
Free Cirrus Security App demos are available via the website (http://www.cirrussecurityapp.com). Cirrus Security is available on the iTunes app store.
Archon Apps, a mobile and web application development company based in Indianapolis, continually innovates and maintains the Cirrus Security App. For clients across the United States, the Cirrus Security App provides a paperless, incident report management system to make security services more marketable to venues, improve reporting consistency for users and increase efficiency for everyone.
Archon Apps also developed and maintains iAspire, an app to assist those in the education field to carry out teacher evaluations. Archon Apps has created customizable forms based on the RISE Indiana Evaluation and Development System. The Indiana Teacher Effectiveness Rubric has been put into a digital form to be used on the iPad or Web Browsers.