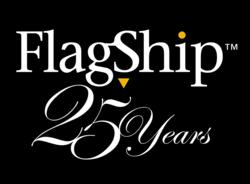 Customers know we can provide customized solutions while maintaining a focus on quality.
San Jose, California (PRWEB) June 05, 2013
Flagship Facility Services is proud to announce 25 years of industry service. How many companies can weather the challenges of expansion, competition, and three economic recessions in more than 25 years? Flagship has done just that.
Jim Mikacich, Vice President of Sales and with the company for more than 21 years, says, "We grew Flagship with a deliberate systematic approach to ensure we were a viable long term business. We believe the key to our success was diversification of services and by targeting key industries and growing multiple regions from the start. We wanted to insure we were not vulnerable to a single service, industry, or region. If one area had some challenges another region was doing well. We are proud to say, it worked."
Flagship developed key systems to support industries that required comprehensive service solutions. This allowed the company to service a diverse set of industries including airlines and airports, bio-tech, educational, pharma, hi-tech, and manufacturing facilities. Special processes were developed to service facilities that require unique services such as clean-rooms, laboratories, R&D space, manufacturing floors, public areas, and highly secure airport or government properties.
With these systems in place, Flagship was able to quickly develop a presence in growth markets, opening multiple offices in Northern and Southern California, Phoenix, Dallas, and other areas. By tightly focusing on target markets and quickly spreading into growing regions, the company was able to maintain stable overall revenues during the tougher years and changing economies. It proved to be a good growth model as Flagship has steadily grown revenues since 1988. Flagship had one of its best years in 2012 and are on track for another banner year in 2013. This year, internal expansion is underway as well. They have acquired more operational space and expanded their warehouse to meet the increasing demand for special projects.
From the beginning, the company set out to improve the state of customer service within the industry and founder and CEO David Pasek knew the value of good customer service through early work experience. He realized good customer service is what sets a successful business apart from its competitors.
"Sustainability is vital to a new business and we believed from the start that the best approach was centered around a true focus on creating a good experience for our customer," states Mr. Pasek. "I was passionate about it then and I still am."
It didn't take long for Flagship to prove that approach. Within a few years, Flagship built a reputation of excellence in customer care winning multiple awards and maintaining an excellent customer retention rate.
Today, Flagship competes with the largest companies in the industry, and Jim Mikacich claims, "We often win the business. We have developed a unique approach and customers understand we can provide customized solutions while maintaining a focus on quality."
The company plans to celebrate throughout the coming year with a variety of corporate activities, charitable events, and customer appreciation offers. Read more about Flagship and see what's coming up at: Flagship Facility Services, Vimeo, Facebook, or follow them on Twitter.