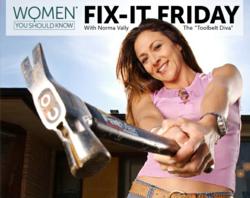 New York, NY (PRWEB) June 04, 2013
In a move to empower its readers to be in better control of their homes, Women You Should Know (WYSK), an editorial site for and about dynamic women, is partnering with seasoned veteran of home improvement, Norma Vally, for an exclusive, online series called "Fix-It Friday". The weekly "ask the expert" column, authored by Norma and set to launch this Friday, June 7, is designed to inspire women – weekend warriors, aspiring handywomen, and even seasoned DIYers – to take on home repairs and maintenance projects with confidence and gusto.
Packed with her easy-to-follow instructions, safety tips, dos and don'ts, and expert advice, Norma's WYSK "Fix-It Friday" column will be a comprehensive "how to" resource for common home repairs – plumbing, electricity, walls, floors, doors, windows and more. Delivered with Norma's signature, lively commentary, each of her "Fix-It Friday" column topics will be based on reader questions submitted to the site's editors.
As the host of Discovery Home Channel's series "Toolbelt Diva" and a Sirius Satellite radio show by the same name, Norma, who has seen and done it all, has all the answers and is ready to share with other women in this very dynamic way.
Cynthia Hornig, Co-Founder and Editorial Director of Women You Should Know, said, "Having this kind of direct access to an expert of Norma's caliber and skill is an enormous asset for our online community and our brand." She added, "Our readers can think of her as the 'can-do' best friend we all wish we had who's there to help when the bathtub won't drain or you want to put that ceiling fan up in the bedroom or you have no idea what caulk is and why anyone would ever need it or what the difference is between plumber's putty and silly putty."
Norma, a firm believer in the power of women helping women, said of her new partnership with the site, "WYSK is such a sterling place for women to become informed and inspired! "Fix-it Friday" will allow me to share endless DIY tips with the vast and growing number of WYSK readers." She added, "I'm honored to be a WYSK contributor and in the company of such talented women, but I'm most excited to put the power of fixing in the hands of all the women visiting the site! Can't wait to get started…OK let's go fix something!"
Survey after survey shows that more and more women are taking on DIY home projects these days. According to the Washington Post(1), more women are picking up power tools and taking over home repairs, a domestic domain historically overseen by men. Recognizing the value of this shift, even Home Depot has been offering free, hands-on "Do-It-Herself Workshops" in their stores across the country specifically for women.
But even if home repair or improvement are not a woman's passion and she would rather be painting the town instead of her spare bedroom, the site's founders believe that every woman should know the basics of home maintenance.
In promoting its new series, Women You Should Know writes, "How satisfying it can be to tackle a project, how empowering it can be to take on a challenge, and how freeing it can be to not have to pay a "professional" every time something goes haywire in your home, which it will."
Norma urges women everywhere to drop the honey-do list and exclaims, "Honey, do it yourself!" And Women You Should Know is ready to raise up its hammers and scream that battle cry with her through their new "Fix-It Friday" series.
(1) Washington Post (December 18, 2012) More women are picking up power tools and taking over home repairs by Emily Wax
About Women You Should Know:
Women You Should Know is an editorial site and community all about dynamic women. Launched in September 2011 by entrepreneurial mavens Jennifer Jones and Cynthia Hornig, the site's mission is to tell the untold stories of relatable, everyday women across the country and globe who are making things happen in their world; women who have outperformed, innovated, discovered, defied and soared. These are women who deserve recognition and news headlines, but who all too often don't get either. By telling their stories and giving them a voice, the site serves as a source of inspiration to encourage other women to realize their own dreams. Visit http://www.womenyoushouldknow.net.
About Norma Vally:
A seasoned veteran of home improvement, Norma Vally's media career boasts four seasons as host of Discovery Home Channel's series Toolbelt Diva and a radio show on Sirius Satellite by the same name. Norma is the author of the book series Norma Vally's Fix-ups; has appeared on Today, NBC Nightly News, CNN, FOX, MSNBC, TLC, HGTV, DIY, Hallmark, etc; has been featured in Women's Health, People, Woman's Day, Glamour, Los Angeles Times, USA Today, and New York Times. She is a supporter of The Boot Campaign, a non-profit assisting active and returning military. Norma founded Chix Can Fix, a new motivational movement devoted to empowering women to take control of their homes and their lives.
Contact:
Julie Kanadew
info(at)outhousepr(dot)com
212.349.8543