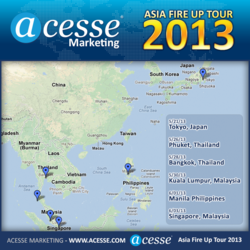 Minneapolis, MN (PRWEB) June 04, 2013
Acesse hosted a business opportunity conference in Manila, Philippines at the Holiday Inn Hotel on June 1, 2013. The conference in the Philippines was Acesse's fifth conference of its Acesse Asia Fire Up Tour 2013.
Keynote speakers Bob Kinsella, President of Acesse, and Annie Zhang, Top Sales Leader, delivered grand insight on how Acesse's Internet Marketing Products and Services can better serve individuals and small businesses that are interested in marketing online. Founder Steve Renner, CFO Amy Ayd, CTO James Wong, and Corporate Council Peter Wold gave special video messages to the audience.
Acesse is pleased to announce that the conference had a wonderful turnout and many people joined Acesse as Internet Marketing Consultants. Acesse prides itself in offering state-of-the-art Products and Services to small businesses and individuals that want to grow their business and market online. The Acesse Team was very moved by the reception of the Philippine market.
The Acesse Asia Fire Up Tour 2013 will be visiting its last destination in Singapore on June 3, 2013 to host a business opportunity conference in the Grand Park City Hall. The conference will be free and open to the public.
Acesse Marketing is the Sales and Marketing division of the Acesse Corporation, registered under the laws of the state of Nevada, USA.