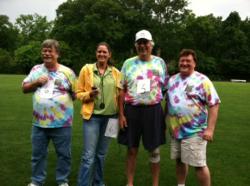 ARLINGTON HEIGHTS, Ill. (PRWEB) June 03, 2013
Three of Northwest Community Healthcare's (NCH) very own cardiac rehabilitation patients recently made a statement about overcoming their cardiac history by hitting the athletic fields. They were selected to compete against other athletes who have been diagnosed with cardiovascular disease in an Olympic-style competition at the 2013 World Heart Games last month in Atlanta.
The two-day competition was an opportunity for athletes to compete in a range of sporting events that are consistent with their health status and capabilities. The World Heart Games help cardiac patients understand that through appropriate return to regular physical activity and lifestyle changes, cardiac patients can restore their confidence and enjoy sports.
NCH cardiac rehab patients Howard Maybloom, Mark Stachowski and Howard Thomas traveled to Atlanta to compete against their peers in events such as table tennis, golf putting, bowling, a prediction walk, tennis, volleyball and basketball, among other activities. They returned to the Northwest suburbs with a renewed energy to be active.
Maybloom took home a gold medal in the one-mile prediction walk and a silver medal in golf putting. During the prediction walk, Maybloom was the closest in predicting how long it would take to complete a one-mile walk. His estimate was one-tenth of one second off his prediction. In golf putting, Maybloom was a finalist in the lowest number of putts on the golf course.
Maybloom, Stachowski and Thomas credited their involvement in the World Heart Games to the care and support from NCH cardiac rehab nurses Mary McNally and Cindy Aschoff, who both traveled to the games to cheer their patients.
"Everybody who participates in the World Heart Games has had a cardiac event and that does set you back," McNally said. "These people have overcome and they are very dedicated. They had to work to prepare for these games."
NCH's cardiopulmonary rehab program includes a team of expert nurses, exercise physiologists and exercise specialists who work closely with patients to improve their diets and increase their confidence and fitness levels. Cardiac rehab includes a medical evaluation, supervised exercise, modification of cardiac risk factors and education.
For more information and to schedule sessions, call Cardiopulmonary Rehab Services at 847.618.7910.
# # #
About Northwest Community Healthcare (NCH)
Serving Chicago's northwest suburbs since 1959, NCH is a comprehensive, patient-centered system of care that serves more than 350,000 outpatients each year, as well as nearly 30,000 inpatients treated annually at the 496-bed acute care hospital in Arlington Heights. The award-winning hospital holds the prestigious Magnet designation for nursing excellence, is designated as a Primary Stroke Center, earned the Joint Commission's Gold Seal of Approval in 2011, and was awarded the Leapfrog Group's designation as one of the nation's Top Hospitals based on quality and safety criteria. NCH has four Immediate Care locations in the northwest suburbs and operates a FastCare Clinic in Palatine. NCH has a medical staff of more than 1,000 physicians, which includes the board-certified primary care doctors and specialists of the NCH Medical Group. For more information or to find a doctor on the NCH Medical staff, visit http://www.nch.org.
# # #