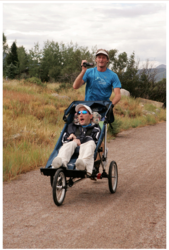 There is a buzz in the elite runners' world, and we will see some record-breaking historic race times this year.
Aspen, Colorado (PRWEB) June 05, 2013
As the Aspen Valley Marathon gains notoriety, in its fourth year the race promises even faster times with runners taking to one of Colorado's high-altitude, Boston-qualifying downhill courses. Benefiting Challenge Aspen this 26.2-mile run starts in iconic Aspen, Colo. and follows the Roaring Fork River more than 1,300 feet down to the postcard-perfect town of Basalt.
In addition to the marathon, there is a half marathon and five-kilometer race. All events take place Saturday, July 20, and registration is now open with participation capped at 500 people.
"There is a buzz in the elite runners' world, and we will see some record-breaking historic race times this year," says Katherine Fitzgerald, race director. "We are attracting many international runners. Not only is this a picturesque course but it's also a Boston Marathon-qualifying event, and the majority of the course is flat or downhill."
The marathon course starts in Aspen's Wagner Park (7,908') at 7 a.m., and runners quickly descend into the Roaring Fork Valley on a primarily paved trail with some sections of dirt. The course, entirely void of cars, takes runners all the way to Lions Park in Basalt (6,611'). The half-marathon course starts in Jaffee Park in Woody Creek at 8 a.m.--at the mid-section of the marathon course--and also finishes in Lions Park. The 5K course start time is 10 a.m., and it begins and ends in Lions Park.
"Our course is unique in passing many of the iconic buildings of Aspen's downtown and then following the historic Rio Grande Railway trail, which was the lifeblood of the Roaring Fork Valley during Aspen's founding period as a Silver Mining Town," says Sean Solon, race director. "Our finishers medal--a silver Aspen leaf--commemorates the trail's mining past."
The Aspen Valley Half-Marathon was started in 2010 by Fitzgerald, who has been a long-time resident of the valley and an avid runner for many years, and Solon, who has worked with Ruggerfest, Shining Stars Foundation and World Cup for Challenge Aspen.
Costs are $120 for the marathon, $105 for the half marathon and $40 for the 5K. Registration includes a post-race lunch and T-shirt. Online registration is available at active.com.
For more information and press inquiries, please contact: David Cook (aspenvalleymarathon(at)gmail(dot)com) (970) 379-5574. All other information can be found at aspenvalleymarathon.com.
-------
ABOUT CHALLENGE ASPEN
Challenge Aspen is an organic outgrowth of the individually conceived dreams of co-founders, Houston Cowan and Amanda Boxtel. Houston Cowan became interested in teaching blind people to ski in 1991 as a volunteer guide and instructor. Amanda Boxtel's love of art and teaching children brought her to Aspen in 1988. While skiing in 1993 she took a tragic fall resulting in a broken back and leaving her paralyzed from the waist down. Houston and Amanda met one year after her fall and Challenge Aspen was born. Challenge Aspen now offers year-round recreational, educational and cultural experiences for people with cognitive or physical disabilities and includes a new program, CAMO (Challenge Aspen Military Opportunities), specifically serving ill or injured service members and veterans. Challenge Aspen continues its mission of making possibilities for people with disabilities.