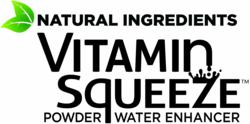 (PRWEB) June 04, 2013
With health concerns continuing to drive soda sales down*, the coveted millennial audience (consumers under 30) is turning to water enhancers for refreshment and customizable flavor. In this $200 million** category dominated by conglomerates such as Kraft and Coca-Cola, one independent company pursues a twofold mission of health and sustainability: Ecosentials LLC.
Water enhancement was named as a key trend in the April/May 2013 issue of BevNet magazine, illustrating the category's growing market importance. Most in the category are liquid products with a high preservative content, but Vitamin Squeeze™ has perfected a powder format that is free of preservatives, sweetened naturally with zero-calorie stevia, and provides a potent, fresh proportion of vitamins with every dose.
"We invented the nutrient-fortified water enhancer category when we launched Vitamin Squeeze™ in January 2012," said Ecosentials Founder and CEO Bill McKay. "Our patent-pending bottle allows consumers to customize flavor and nutrients anywhere, everywhere. This way, it becomes easy and affordable to replenish vitamins B and C, and to secure appropriate nutrient densities for the body."
Vitamin Squeeze™ is also the only water enhancer to emphasize the need to replenish vitamins B and C. The importance of these nutrients is well known, but less so is the need to replenish them regularly throughout the day.
"We are working to create awareness about the role that hydration, natural ingredients, zero calories and nutrients play in a healthy lifestyle," McKay added. "We are beginning to dialogue with foundations, family offices, domestic and international companies that align with our vision to expand our mission-based, double bottom line social and environmental cause."
Vitamin Squeeze™ meets its double bottom line in a variety of ways:

Fighting obesity. Vitamin Squeeze™ has no calories, no carbohydrates, no glycemic index, and no sugar.
Promoting healthy habits through hydration and vitamin replenishment. Vitamin Squeeze™ makes water taste good, so children (as well as adults) drink more water. Vitamins B and C are excreted through the kidneys and must be replenished. Vitamin Squeeze™ has 120 percent of a day's vitamin C requirement as well as 100 percent of vitamins B3, B5, B6 and B12 and 50 percent of vitamin D per serving in addition to electrolytes, zinc and chromium per serving.
Reducing plastic bottle consumption. One 12-serving bottle of Vitamin Squeeze™ Powder saves up to 12 16.9-ounce PET water bottles if used with tap water, and about five each 20-ounce vitamin enhanced water bottles.
Vitamin Squeeze™ Water Enhancers are sold in the water and powder drink mix set in more than 2,500 Safeway, SUPERVALU, Albertson's, and many other stores nationwide. The brand is also rapidly gaining new distribution across natural, fitness and nutrition channels.
For more information, please visit http://www.vitaminsqueeze.com.
*Nielsen data for four-week period ending April 13, 2013
** Mintel
About Vitamin Squeeze™
Ecosentials LLC has adopted a double bottom line mission to reduce obesity and raise the awareness of the benefits of a sustainable lifestyle. The company developed the breakthrough squeezable bottle in 2012 with Vitamin Squeeze™ Liquid Water Enhancers. It used its patent pending dispensing technology to create the first-of-its-kind, squeezable Powder Water Enhancer. The line, which is unique to market because of its squeeze dispensing natural powder, is available in Multi-Vitamin, Energy and Weight Control formulas. Vitamin Squeeze™ Powder Water Enhancers are a delicious way to add vitamins C and B to your drinking water, which are clinically proven to be water-soluble vitamins that the body requires to be replenished throughout the day. The portable on-the-go bottle makes it easy to transform water into a nutrient enhanced beverage anywhere, anytime. Benefits include multi-vitamin, energy and weight control. When hydrating, remember: A Squeeze Is All You Need™ for delicious custom flavor and benefits.