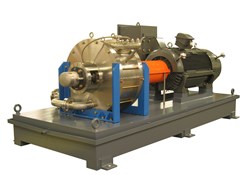 "This patent strengthens our already strong intellectual property portfolio. We believe we have several competitive advantages to offer the ethanol industry that will increase value for our customers," said Doug Mancosky, VP of R&D
Rome, GA (PRWEB) June 04, 2013
Hydro Dynamics, Inc. (HDI) of Rome, Georgia (http://www.hydrodynamics.com) announced today that it has been granted a patent (US Patent Number: 8,430,968) covering its Shock Wave Power Reactor (SPR) cavitation technology for ethanol yield enhancement.
The Patent covers the application of the SPR cavitation reactor to provide ethanol yield enhancement in the fuel ethanol industry. SPR technology uses the pressure fluctuations produced by controlled cavitation to liberate entrapped starch and sugar from corn, making them more available for conversion to ethanol during the fermentation process.
"HDI has partnered with Phibro Ethanol Performance Group to market our SPR cavitation technology to the ethanol industry," explains Kelly Hudson, CEO of HDI, "Phibro's technical expertise and extensive customer relationships make them an excellent partner to work with to introduce our technology."
"This patent strengthens our already strong intellectual property portfolio. We believe we have several competitive advantages to offer the ethanol industry that will increase value for our customers," said Doug Mancosky, VP of R&D of HDI.
About Hydro Dynamics
Hydro Dynamics is the developer of a patented cavitation process intensification technology called the ShockWave Power Reactor (SPR), enabling customers to solve critical mixing and heating problems. Reactors are operating on four continents with well-known customers in applications as diverse as increasing biogas yields to mixing petroleum drilling mud to more efficient homogenization and pasteurization of liquid eggs. The ShockWave Power Reactor allows customers to significantly decrease costs and increase profits, often with environmental and safety benefits. Learn more at http://www.hydrodynamics.com.