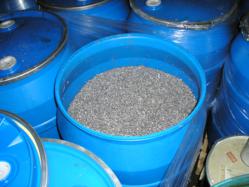 We took one look at the waste and said, 'let's stop calling it waste.'
Minneapolis, Minnesota (PRWEB) June 04, 2013
From its low-key base of operations in Minneapolis, an environmental consulting firm is earning national praise for leading a client away from a sizable financial loss and swiftly turning a hazardous waste headache into an unexpected payday.
Now thanks to delivering that flip in fortune for a Twin Cities lender, Vieau Associates Inc. stands among a mere handful of finalists left competing June 9-11 in San Francisco before the national Environmental Bankers Association for the right to say it conceived and carried out the most innovative solution to an environmental dilemma.
"We don't simply see a problem and try to fix it," said Sean Leary, Vice President of due diligence for Vieau Associates. "We question whether it's a problem in the first place. We think a bit deeper and keep our clients' objectives front and center."
Leary will outline before his peers how a client came to Vieau Associates with a $75,000 bill to clean up hazardous wastes and quickly determined that the waste actually had value.
The swing in real terms for that worried lender: $85,000.
The bank was forced to foreclose on a Twin Cities property appraised at $2.5 million, and had finally found a buyer.
However, discovered on the property were 1.5 tons of AlBeMet, a composite of beryllium and aluminum that is deemed "hazardous waste." There were also hundreds of gallons of other liquid wastes on the site.
"The deal had a drop-dead closing date," said Vieau President David Vieau, who is one of only nine trainers in the nation who teaches how to implement new policies and standards for environmental site assessments. "Our client was told, 'Bank, you've got to dispose of this waste in 30 days or this deal is dead.' "
The two parties in the transaction pull in a national waste-reclamation contractor who quoted $75,000 to dispose of the troubling materials.
A big bill to swallow for a bank already in the hole, but under the gun for time, buyer and seller agreed to call in Vieau Associates for a second opinion. Vieau immediately questions whether the wastes are wastes, fires up sampling and testing, and determines there is market value for AlBeMet, which is used in aerospace manufacturing.
"We took one look at the waste and said, 'Let's stop calling it waste,' " recalled Vieau. "Let's call it something else. Let's see if it has value."
After rapid fire research and putting out competitive bids for the AlBeMet, the wastes are removed for recycling purposes and the bank clears $10,000, even after paying Vieau for its services.
"Our priority was to make sure the deal didn't fail for the client," Vieau said. The deal closed within 30 days with no unnecessary modifications to the purchase agreement or other concessions. It was fast: sample, test, communications, pick it up and move it out, all while learning on the fly.
"For most, this story is all about turning the waste into a windfall for the client," Leary said. "But there's another story here," Leary explained. "Our re-characterization of the waste as non-hazardous allowed us eliminate bank's liability exposure by removing them from the hazardous waste generator disposal loop".
Vieau said that while taking a client from an expense to an income in the same project is unusual, it fits his vision for his firm's culture.
"We have a lot of clients who trust us because we won't come in and make a mountain out of a molehill," he said. "If we can resolve a problem without generating a giant bill, we're apt to get repeated jobs and referrals from this client."
ABOUT VIEAU ASSOCIATES INC.:
Founded in 2000, Vieau Associates is an environmental consulting firm based in Minneapolis and specializing in environmental due diligence and voluntary cleanup. Vieau focuses on consulting, project management, and delivering cost-effective results to environmental challenges confronted by real estate transactions and development. Its base of operations is throughout the Upper Midwest, but the firm has worked with clients spanning every time zone in the United States. Clients include buyers, owners, lenders and developers, as well as legal, real estate, design, economic development and construction professionals. Learn more at: http://vieauassociates.com or call 952-893-7931.
# # #