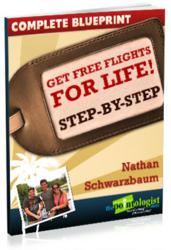 Plainview, NY (PRWEB) June 05, 2013
Nathan Schwarzbaum, the founder of reward miles shopping portal Pointrax Rewards, is thrilled to celebrate the release of his latest project, a complete guide to earning and redeeming reward points for flights, hotel stays, and other travel rewards.
Free Flights for Life is the culmination of the tricks and strategies Nathan acquired from years of rewards program membership and family trip planning. It's also a dream come true: the opportunity to guide others to travel possibilities beyond their wildest dreams with a bit of planning and organization.
The book walks readers through everything from getting approved for the best credit cards, to earning points and miles, to maximizing redemption value when booking hotels and flights. Designed as an HTML guide, the digital edition of the book also contains relevant links to all the application forms and other resources for quick and easy access.
As committed as Nathan is to helping people travel for free, he is offering exclusive email support with purchase of the book.
For more info, or to purchase Free Flights for Life, click here.