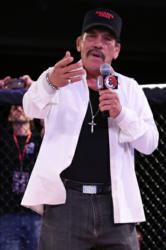 Los Angeles, CA (PRWEB) June 03, 2013
BAMMA USA, known for promoting top tier professional mixed martial arts fighters, hosted their biggest event yet, Badbeat 9, on May 31 at the Commerce Casino in Commerce, CA.
Bringing together the worlds of Hollywood and MMA, the sold-out event was attended by many noted celebrities, including film star Danny Trejo ("Machete"), General Hospital's Sean Kanan and wife Michele Kanan, NASA Engineer and meme sensation Bobak Ferdowsi, WEC Bantamweight Chad George, UFC's Francisco 'Cisco' Rivera and Lorenz Larkin to name a few.
Badbeat 9, presented by Budweiser, showcased an exciting and aggressive fight card with 10 professional MMA fights. The night began and ended with electrifying submissions, stoppages and knockouts throughout the night, with only three of the bouts going the full distance of three rounds.
In the first bout of the night, featherweight Reshan Sabaratnam defeated Tommy Gavin via second round TKO from ground and pound. Terrion 'The Flash' Ware defeated his opponent Bobby Sanchez in 48 seconds of the first round with a stunning knockout; a devastating knee to the head. In the featured preliminary bantamweight bout between Marvin Madariaga and Eric Winston, Winston won via second round armbar.
On the main card of Badbeat 9, Sevak Magakian and Eric Brown started the action with their lightweight bout. Brown swiftly took control of the match to pull a heel hook on Magakian, winning in the first round. Bad Beat 9's "retirement" fight ended up looking more like a gruesome title match between Gabe 'Gozilla' Ruediger and Scott 'K.O.' Catlin. Ruediger took the victory with an exhilarating second round armbar.
Ernest Chavez defeated Jorge Valdez in Badbeat's first-ever title match in the lightweight division. Chavez dominated the bout, winning via TKO stoppage in the third round. Chavez is now the first BAMMA USA lightweight belt holder in history. In the main event of the evening, middleweights Ronald Lebreton Jr. and Mikey Gomez went toe to toe and ended the night with another spectacular submission, with Gomez defeating Lebreton via armbar in less than two minutes into the first round.
Chris Costello also defeated his opponent Matt Bahngte via split decision in their lightweight bout, Luis Iniguez was defeated by Nick Jordan via unanimous decision at 145 pounds and Chris Culley defeated Justin Linn via unanimous decision.
Badbeat's Knockout of The Night Award went to Ware for his lethal knee to the head knockout in the first round of his bout. The Submission of The Night Award went to Ruediger for his armbar in the second round of his retirement match.
"Our goal has always been to bring professional talent to southern California audiences in an entertaining and, most importantly, accessible way," CEO of BAMMA USA Brett Roberts, said. "We have experienced extreme growth as a result of delivering great entertainment to our audiences with every event. We are thrilled that Hollywood is starting to take notice to our fights and we look forward to a continued partnership with celebrities, sponsors and our loyal audiences."
Sponsors for Badbeat 9 included Budweiser, GoPro, Vitamin Water, Revgear, OC Fight Docs, Got Mortgage and Be First Clothing. In the near future, fans can expect to see more star-studded events featuring exciting talent.
For more information on this event, Badbeat and BAMMA USA, please visit: http://www.BammaUSA.com or call 714.912.8822. For media inquiries, please contact Terrance Gillum: terrancegillum(at)abgpr(dot)com/818-579-3115.