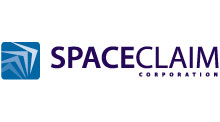 Concord, Mass. (PRWEB) June 04, 2013
SpaceClaim, the leading provider of flexible and affordable 3D modeling software for engineers, announced today that Chris Randles' keynote address from DEVELOP3D Live has been made available for viewing online. The presentation on the past and present of software for engineers explains how parametric CAD became the dominant 3D modeling software, and why pervasive 3D is needed to involve more people in the design process and accelerate innovation.
According to Randles, the modern CAD process is not substantially different than the drafting office of the turn of the 20th century, and the technology used for CAD drawings was originally developed for the MicroVAX II computer introduced in 1985. The processes around modeling software have changed significantly, and require a re-thinking of 3D drawing software that includes concept models, simulation models and far more. Randles says, "We try to enable the engineer to be more productive by interacting with 3D."
Randles explains that SpaceClaim "is a different kind of application. It is designed for engineering, so there are specific tools built into it that support different disciplines at different stages of development." As he says, "Engineers design products; draftsmen don't design products." By giving engineers the ability to work directly with the 3D model, companies achieve "fast and flexible representations that can be shared rapidly for quick collaboration."
DEVELOP3D Live 2013 took place April 16 at the Warwick City Arts Centre in Warwick, UK. The free event explored the future of product development technology, tools and strategies.
About SpaceClaim Engineer
SpaceClaim Engineer is the world's fastest and most innovative 3D direct modeler. The intuitive software enables engineers to import nearly any CAD format and quickly build concept designs without concern for parameters. Users simply pull, move, fill and combine design elements to instantly create and iterate design concepts.
Without investing in the complexities of traditional feature-based CAD, or the associated training or hiring needed to implement the software, SpaceClaim Engineer provides an easy to learn and use 3D modeling environment and a full editing toolbox. Users also repair corrupt, broken or incomplete geometry several times faster than with feature-based CAD, and easily modify the design to prepare models for simulation or manufacturing. Completed 3D models and associated data are simply exported to a wide range of file types for use throughout the product design process.
About DEVELOP3D
DEVELOP3D tracks the essential technologies used throughout the entire product development process, from concept development through analysis to fabrication.
With a globally respected editorial team with unparalleled industry experience, DEVELOP3D analyses and disseminates emerging technologies whilst engaging engineers and designers and assisting them in their increasingly complex software and hardware selection process.
The magazine is available in paper, PDF, iPad/iPhone (though iTunes) and online. UK subscribers get the magazine for free, with digital subscription available to our growing global readership.
About SpaceClaim Corporation
SpaceClaim, the leading provider of 3D Direct Modeling software, develops the best direct modeling solution for engineering and manufacturing. SpaceClaim's acclaimed software is easy to learn and use and is completely CAD-neutral. It enables engineers and other manufacturing professionals to rapidly create new designs or manipulate and edit existing 2D and 3D geometry, without the complexity of traditional CAD. Customers include Toyota Motor Corporation, Samsung Electronics, Nokia Siemens Networks, Bosch, TE Connectivity, BorgWarner, Medtronic, Lotus Cars, Sharp, Ford Motor Company, LG Electronics, Eaton, K2 Medical Systems, Emhart Glass, GE Aviation, Carl Zeiss, General Dynamics, and the U.S. Navy. SpaceClaim is privately held and backed by Borealis Ventures, Kodiak Venture Partners, North Bridge Venture Partners, and Needham Capital. For more information on SpaceClaim, please visit http://www.spaceclaim.com.