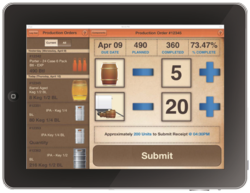 We took feedback from our customers and worked those ideas into an easy to use iPad app for breweries.
Portland, OR (PRWEB) June 04, 2013
OrchestratedBEER is changing the way breweries do business with a new mobile brewery packaging application designed to run on an iPad. By teaming up with a local Portland-based mobile app development firm, OrchestratedBEER is taking brewery management software mobile. The new app, slated for a Q4 of 2013 targeted release date, allows OrchestratedBEER software users to track and log completed activities on the brewery packaging line using an iPad while providing real-time communication between management and production line employees.
As finished beer products come off the production line in the brewery, employees can utilize an iPad on the brewery floor to specify the completed product type and quantity, which is then synced into the software system in real time. The new app eliminates the need for hand-written entries on clipboards, allowing breweries to move closer to becoming paperless.
OrchestratedBEER currently has another mobile application for the iPhone and iPad, however, its function is tailored specifically to mobile brewery sales people to create and track sales orders and perform CRM related activities. The new app will cater specifically to production activities in the initial phases.
Orchestra President, Brad Windecker, talked about the elements that factored into the design process:
"There's a reason why all road signs are universal. They need to be simple so that anyone can understand what they mean. We took feedback from our customers and worked those ideas into an easy to use iPad app for breweries. We included simple images like bottles, cans, kegs and pallets – and used them to represent specific production orders and batch numbers. Usability was the key concern for the app's user interface."
Orchestra VP, Reshad Kazimee, commented on the speed of development from concept to execution:
"We submitted the design concepts for the app to the development team in April of this year and it will be available in the App store later this year - that's how fast we move. We have the capabilities internally, as well as great design and development resources here in Portland and in the SAP community, where we can go to market extremely fast. Other software companies outsource development overseas, talk about the concepts behind their app and then demonstrate it on a laptop. We will have a real functioning mobile application, and we'll be demonstrating it on an actual iPad. All our customers will be able to download this app from the Apple store as soon as it passes the beta phase. The best part is that we sought help from iOS design and development experts right here in our own backyard – not overseas."
The partnership with the Portland-based mobile app development company is a rare occurrence due to the high priority OrchestratedBEER places on keeping product development local. OrchestratedBEER is proud to keep all departments, support and services in the same Portland office, especially development. The new packaging app presented a unique opportunity to partner with local Portland developers with skill sets outside of OrchestratedBEER's core competency on a project where OrchestratedBEER customers collaborated to gather the basic needs and requirements for the mobile app.
The new app will be released to a select group of beta customers before being released to the rest of OrchestratedBEER users by the end of the year.
This is just the beginning stage for the OrchestratedBEER app. Initially, the app will accommodate the packaging process in a very simple manner but will be built out to include additional functionality as the software continues to evolve and meet the needs of the industry. "The goal is to be able to run SAP and OrchestratedBEER completely from an iPad or tablet." added Windecker.
With nearly 50 brewery customers across the country, OrchestratedBEER is quickly becoming the preferred brewery management software provider for the craft beer industry. OrchestratedBEER has demo recordings of its brewery management software available for download on its website.
OrchestratedBEER is the product of Orchestra Software, a gold-level SAP partner located in Beaverton, Oregon. Founded in 2008, Orchestra develops and customizes enterprise software for specific industry verticals using the SAP Business One platform.