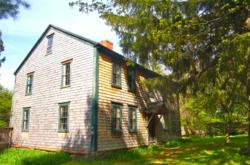 Architectural purists often turn to the Catskill Mountains for historic homes, according to Catskills real estate broker Eric Wedemeyer. "Buyers are attracted to the unadorned and utilitarian appeal of older homes."
(PRWEB) June 28, 2013
When Lillian and Paul De Mauro were looking for an authentic colonial home, they found their dream home in a very unlikely location: Catskills Real Estate in Upstate New York. "People don't typically associate historic homes with the central Catskills," said Ms. De Mauro, "but we found a real gem." After looking extensively throughout New England and the Hudson Valley in the 1970s, the De Mauros marveled at the simple beauty of the circa 1795 central chimney post and beam home.
Originally built as a tavern, the home has been used as a farmhouse, meeting house, and, during the De Mauros' ownership, as a full-time residence. During the Nineteenth Century, organizers of the Anti-Rent Wars, a tenants revolt that led to the end of feudal land practices in New York State, met there. The house was also a stop along the Underground Railroad.
The current owners have thoughtfully retained the integrity of the original structure during their extensive restorations. "I have always been impressed with the quality of the craftsmanship evidenced in the construction and its details," said Mr. De Mauros. "These may have been common in the 1790s, they are hard to find in our mass-produced present." A few of the unique features of the house are four bedrooms, a kitchen with massive stone fireplace, a ballroom with a circular aperture, and a total of five fireplaces.
Architectural purists often turn to the Catskill Mountains for historic homes, according to Catskills real estate broker Eric Wedemeyer. "Buyers are attracted to the unadorned and utilitarian appeal of older homes," said Wedemeyer whose Coldwell Banker Timberland Properties agency has four offices in the region. "Our older homes give buyers a sense of history," he added.
"Finding, living in and restoring this home has been a tremendously rewarding experience," said Mrs. De Mauro.
For more images and video of this Andes NY home, click here.
Coldwell Banker Timberland Properties, with offices in Margaretville, Boiceville, Delhi and Stamford, is the premier real estate agency of the Catskill Mountains in New York State. Buying and selling land and homes in the New York City watershed area is unique and the 25-plus agents of Coldwell Banker Timberland Properties are trained to help buyers and sellers through this process. For more information about Coldwell Banker Timberland Properties and to preview Upstate New York Real Estate and land offerings, go to http://timberlandproperties.net