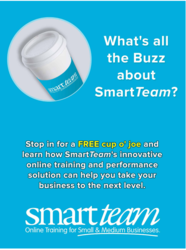 We're looking forward to showcasing some exciting enhancements to the SmartTeam Learning and Performance Engine as well as our online course library. - Vicki Fox David, SmartTeam Director of Product Management
Tampa, FL (PRWEB) June 04, 2013
SmartTeam.com, the leading provider of quality, affordable online training and employee development solutions for small to medium businesses, will showcase its innovative training management services and mobile-accessible course library at the Society for Human Resource Management (SHRM) Annual Conference and Exposition, June 16–19, 2013 at the McCormick Place Convention Center.
This year's conference will feature more than 700 exhibitors providing product and service demonstrations as well as hundreds of educational sessions with prominent speakers including: former Secretary of State Hillary Rodham Clinton; CNN host and New York Times best-selling author Fareed Zakaria; and astronaut and author Mark Kelly, along with former U.S. Representative Gabrielle Giffords.
"The SHRM convention is a premier venue for HR Professionals to meet and learn about best practices in their profession, and SmartTeam is pleased to be back this year," said SmartTeam Director of Product Management Vicki Fox David. "As an easy-to-use and affordable solution for small and medium-sized businesses, SmartTeam generates a lot of interest from attendees. We're looking forward to showcasing some exciting enhancements to the SmartTeam Learning and Performance Engine as well as our online course library. We'll also be offering a sneak peak at the upcoming addition to the SmartTeam portfolio—the SmartTeam Performance Cloud. The new performance management solution will go hand in hand with our eLearning and training management solutions. We can't wait to get to Chicago!"
SmartTeam will be located at Booth 3555, where visitors can preview what the company has to offer, including more than 100 interactive online courses in seven key categories: Compliance and Ethics; Health and Wellness; Leadership and Management; Computer Skills; Customer Service and Sales; Workplace Safety; and Work Skills and Professional Growth. In addition to complimentary coffee service, visitors will have the opportunity to enter two prize drawings for a $300 gift card to either Zappos.com or Sunglass Hut.
SmartTeam's end-to-end online solution for managing employee training and development incorporates the latest eLearning technology and features convenient 24/7 access, full reporting, and live client support available seven days a week. SmartTeam also offers exclusive multi-course certificate programs aimed at better customer service, management and sales.
About the Society for Human Resource Management
The Society for Human Resource Management (SHRM) is the world's largest association devoted to human resource management. Representing more than 250,000 members in over 140 countries, the Society serves the needs of HR professionals and advances the interests of the HR profession. Founded in 1948, SHRM has more than 575 affiliated chapters within the United States and subsidiary offices in China and India.
About SmartTeam
SmartTeam provides a convenient, affordable and fully hosted online training and employee development solution that is easy to implement and right-sized for small to medium businesses. A division of online education leader VectorLearning and headquartered in Tampa, Florida, SmartTeam provides more than 100 expert-authored soft skills and professional development courses through an innovative Learning and Performance Engine that facilitates course enrollment, completion and tracking. SmartTeam offers live support seven days a week, as well as a broad range of features and administrative tools. For further information, visit http://www.SmartTeam.com.