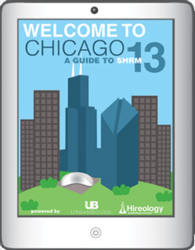 We know the ins and outs of the city and hope this guide will give attendees a taste of what Chicago has to offer. -- Erin Borgerson, Hireology's marketing coordinator
Chicago, IL (PRWEB) June 04, 2013
Hireology, a leading talent management startup, has partnered with UrbanBound, a relocation technology company, to release a guide to help SHRM Annual Conference attendees make the most of their trip to Chicago. Titled "Welcome to Chicago: A Guide to SHRM 2013," the eBook aims to inform attendees of the best things to do around the city - both while at the conference and after it closes each night.
Starting with a variety of travel suggestions, the guide informs attendees of the most efficient routes to take such as the Chicago public transit system, cabs and hotel shuttles. Moving forward, the guide highlights ten of the best restaurants and bars around the city. Additionally, numerous museums and activities are featured as well. Focusing primarily on establishments frequented by locals, the guide is geared towards those looking for something to do in addition to "tourist" activities.
Moreover, "Welcome to Chicago: A Guide to SHRM 2013" highlights the "must-see" speakers at the SHRM conference. Including background information on these speakers, the goal is to educate attendees on those other than just the keynote speakers. Finally, the guide includes information on "must-see" booths - drawing from companies with unique booths from the past.
"We're so excited that the SHRM 2013 Annual Conference is being held in our hometown of Chicago this year," said Erin Borgerson, Hireology's marketing coordinator. "We know the ins and outs of the city and hope this guide will give attendees a taste of what Chicago has to offer."
To download the guide, please click here. For more information on the Society for Human Resource Management, please visit their website.
About Hireology
Hireology's award-winning Selection Management System helps companies organize their hiring process and leverage data to make better hiring decisions. Franchise systems, banks and financial institutions, healthcare systems, dealer networks, and other multi-site operators use Hireology's web-based Selection Manager™ to deliver consistent and repeatable hiring decisions in the field - leading to better hiring decisions, lower turnover, and increased profitability per location. For more information, please visit http://www.Hireology.com.
About UrbanBound
UrbanBound is a web-based platform that helps companies offer a comprehensive transition system to their newly hired and transferring employees. Fortune 1000 companies are utilizing UrbanBound to help their employees bring order instead of chaos and excitement instead of stress to their transition. With our online tools, employees plan and organize their entire relocation while being connected to merchants who offer preferred pricing through our exclusive group buying power. Our breakthrough approach has changed the way businesses relocate and onboard employees forever.