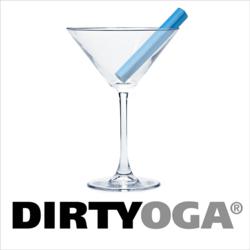 Like most people, we live in the real world, eat bacon, and drink more martinis than we should. DirtyYoga® is yoga for the rest of us.
Brooklyn, NY (PRWEB) June 06, 2013
An aversion to yoga leads to DirtyYoga®, online yoga workouts that make it easier for real people with real lives to practice yoga.
After a decade of intermittent but consistently weird yoga experiences, Susi Rajah believed that yoga kinda sucked. It took NYC yoga instructor, Jess Gronholm, two more years to convince her to attend a yoga class again. When she did, yoga changed her life, but not in the usual annoying way. Susi and Jess Created DirtyYoga®, http://dirtyyogaco.com, an online yoga program eliminating downtime, commute time, time spent sitting around, and other bits that sucked.
"Yoga is good for you. Everyone agrees. And there's a yoga studio on every corner. Why, then, are so many people who want to do yoga not actually doing it?" asks Rajah. When she and Gronholm asked that question of fellow New Yorkers, they found, amongst other things, that people just didn't have time. Two-and-a-half hours to get to and from, and do a yoga class! Too much! Also, studios could be intimidating, and teachers, and other students could be weird or cult-ish. People were afraid they weren't flexible enough, and most men thought yoga was "for girls".
The answers to their informal survey were in line with Yoga Alliance's 2010 survey**, which found that people were stopped from doing yoga by three common beliefs: yoga is too religion-based, yoga requires natural flexibility, and yoga is not real exercise.
"The yoga industry doesn't help this. It can look exclusive or inaccessible," says Gronholm, himself a part of the industry for 12 years. "I've heard many yogis say that if you don't make yoga your entire life, it isn't 'real yoga'. Most New Yorkers find it hard to find 90 minutes for a class, let alone an entire life to devote to yoga. That kind of stand makes yoga sound exclusive or, worse, like a cult.
"Also, practically every yoga website or publication features pictures of extremely flexible yogis. Instructors display pictures of themselves in very advanced yoga poses to advertise classes. Is it any wonder people think that natural flexibility is a requirement?"
"As for yoga not being exercise, yoga is one of the most challenging things you can do with your body, but it's often portrayed by the yoga industry—and too many tampon ads—as a serene pastime for skinny women in white lycra, who never break a sweat. It doesn't look like exercise, especially not to the average guy."
"All that stopped me from practicing yoga," Rajah says. "Yet I really needed it. It's funny, the people who need yoga the most are the ones not doing it.
"The Dirty Yoga Co. philosophy is simple. The point of doing yoga is to do yoga. More yoga is better than less yoga, and some yoga is better than no yoga. So, we should all be doing it any way we can. DirtyYoga® is designed to help you do that. We're less about lotus blossoms and more about accessibility. There are great yoga classes and teachers out there but they're only accessible to the few who can get to them."
As for the spiritual side of yoga? "The great way you feel after a yoga class has more to do with the physical work you've done than anything else," says Gronholm. "It's not a mystery. If you move your body and breathe and stretch, you'll feel better in every way. The spiritual side of yoga can be off-putting because it's often confusing—completing a yoga teacher training doesn't automatically qualify you as a spiritual leader. And it shows."
Rajah adds, "Besides, yoga gurus topple regularly these days. DirtyYoga® gets rid of the potential for hypocrisy. That's why we're 'dirty' yoga. Like most people, we live in the real world, eat bacon, and drink more martinis than we should. DirtyYoga® is yoga for the rest of us. One of our first customers found out that her yoga studio, which charges a premium for purity, used a toxic cleaner on their mats. She chose us because we didn't pretend to be anything we're not. We live in New York City. No one here is zen—not for long.
"This is yoga for people who don't have time for conventional yoga classes, for people who don't want to be lectured to by a newly certified 22-year-old, and for anyone who just needs to move and stretch—and build strength—without having to adopt a new lifestyle to do it."
About DirtyYoga®:
DirtyYoga® - http://www.dirtyyogaco.com - is a complete online yoga workout program for people who don't have a lot of time to do yoga. As well as eliminating downtime, Dirty Yoga Co. has re-engineered and streamlined traditional yoga classes to suit both the online medium and busy lives. DirtyYoga® workouts build strength, stability, stamina, and flexibility.
Created in Brooklyn, New York, in 2012, DirtyYoga® can be purchased by the week, by the month, or by subscription. It delivers three foundational workouts and five focused workouts each week. The price of a subscription is $20 a month (about the cost of one yoga class in NYC).
Founders:
Jess Gronholm, Founder and Yoga Director.
Prior to Dirty Yoga Co., Jess was the National Yoga Director for Crunch Gyms, where he taught thousands of students, trained over 300 teachers, and developed yoga programs for 32 gyms. He has more than twelve years of experience in teaching yoga and over six years experience in general group fitness.
Susi Rajah, Founder and Creative Director.
Prior to Dirty Yoga Co., Susi worked internationally as an award-winning Art Director and Copywriter in advertising, after which she worked directly with businesses in London and New York, and played key roles in the creation of award-winning products. She is also the author of three books, which have been published in several languages and a dozen countries.
For more information visit: http://www.dirtyyogaco.com
*Yoga in America. 44% of non-practicing American Adults are interested in Yoga. Yoga in America Market Study 2012. Harris Interactive Service Bureau.
**Yoga Alliance 2010 Survey.