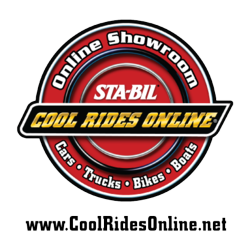 While consumers can purchase non-ethanol gasoline, it can be difficult to find and cost as much as $5 to $8 per quart*.
Chicago, IL (PRWEB) June 11, 2013
With gas prices continuing to rise and consumers keeping their cars, boats and equipment longer, many are starting to take greater interest in the debate over ethanol-blended fuel and how it's affecting their engines and wallets. Most of the country's gas stations now carry ethanol-blended gasoline, typically with a mix of 10 to 15 percent ethanol and 85 to 90 percent gasoline. However, the national 2013 Ethanol Awareness Survey from Cool Rides Online®, a leading community for people passionate about custom cars, motorcycles, trucks and more, found that half of respondents (50 percent) believe ethanol-blended gasoline may damage their engines, and 46 percent would advise family and friends against using ethanol-blended fuels.
While ethanol has been promoted as environmentally-friendly, recent studies have found that ethanol can have damaging effects on an engine. In fact, more than half (55 percent) of survey respondents had negative experiences when using ethanol-blended gasoline in their car, truck, motorcycle or other rides. They identified a range of problems caused by ethanol-blended fuels, including loss in mileage (68 percent), poor engine performance (61 percent) and long-term damage to engine parts due to corrosion (39 percent).
"Considering most consumers use local gas stations with ethanol-blended fuels, the need for education and prevention is more necessary now than ever to protect consumers from costly repairs and long-term damage," said Tom Bingham, Director of Marketing for Gold Eagle Co, the makers of the best-selling fuel stabilizer STA-BIL. "Fortunately, companies like ours have developed ethanol treatments to protect engines from the negative side effects of ethanol-blended fuels if the fuel sits for more than one week."
While consumers can purchase non-ethanol gasoline, it can be difficult to find and cost as much as $5 to $8 per quart*. A less costly alternative is to use an ethanol treatment. Of survey respondents who used an ethanol treatment, more than half (55 percent) noticed a positive difference in the functionality of their car, truck or other ride. Ethanol treatments like STA-BIL® Ethanol Treatment help remove water, protect against corrosion and clean fuel injectors, carburetors and intake valves to keep the fuel system free of gum, varnish and deposits. These aftermarket products are ideal for use in everyday driving vehicles, such as cars, trucks and motorcycles, as well as small engine equipment, such as lawnmowers and ATVs.
For more information on ethanol-blended fuels, view the 411 on Ethanol InfoGraphic or download Gold Eagle Co.'s White Paper on Ethanol Blended Gasoline.
Research Methodological Notes:
The 2013 Ethanol Awareness Survey was conducted nationally by Cool Rides Online among 277 Americans, ages 18 and over, with experience working with engines conducted between February – March 2013 using an online survey. Results of any sample are subject to sampling variation. The magnitude of the variation is measurable and is affected by the number of responses and the level of the percentages expressing the results. In this particular study, the chances are 95 in 100 that a survey result does not vary, plus or minus, by more than 4.0 percentage points from the result that would be obtained if responses had been collected from all persons in the universe represented by the sample.
About Cool Rides Online®
Cool Rides Online is an online community for people who love "Cool Rides" of all types. We believe that if it's cool and has an engine, then we want to see it. Our mission is to support the custom ride hobby and help keep it thriving by providing a platform to show it off, connect with like-minded people and to reward our members with cool contests, promotions and prizes. Cool Rides Online® is sponsored by Gold Eagle Co. brands STA-BIL®, 104+®, Iso-HEET® and Start Your Engines!®. Find Cool Rides Online at http://www.coolridesonline.net or connect with us on facebook: http://www.facebook.com/coolridesonline.
About Gold Eagle Co.
For more than 80 years, Gold Eagle® Co. has been an industry pioneer in the production and distribution of aftermarket fluids and additives. We create products that help preserve, protect and enhance the performance of engines everywhere. We are a leader in the product development, manufacturing, marketing, and distribution of branded engine performance and maintenance chemicals. Privately held and headquartered in Chicago, Gold Eagle Co. is the manufacturer of leading brands, including STA-BIL® Fuel Stabilizer, HEET® Gas-Line Antifreeze, NO LEAK® Treatments, 104+® Octane Boost, Start Your Engines!®, DieselPower!® Diesel Additives, 303® Aerospace Protectant and 303® Fabric Guard. To view our complete line of Gold Eagle products or learn more about the Company, please visit http://www.goldeagle.com or "like" our Gold Eagle Co., STA-BIL, Start Your Engines! or Engine Answerman pages on Facebook. For product questions, please call us at 800-621-1251 or follow us on Twitter @GoldEagleHelp.
All trademarks, service marks and trade names, including STA-BIL®, HEET®, Start Your Engines! ®, NO LEAK®, ALUMASEAL®, Gold Eagle®, DieselPower! ®, Golden Touch®, 104+®, Cool Rides Online®, 303® Aerospace Protectant and 303® Fabric Guard used herein are trademarks or registered trademarks of Gold Eagle Co. The aforesaid families of related marks, images and symbols are the exclusive properties and trademarks of Gold Eagle Co.

Consumer Reports, "How to find ethanol-free fuel for your lawn gear," July 10, 2012