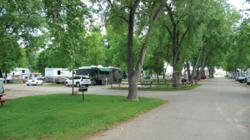 Denver, CO (PRWEB) June 04, 2013
The Loveland, RV Resort will be offered for sale on Tuesday, June 18, 2013, by The United States Bankruptcy Court for the District of Colorado. The property, which consists of 158 pad sites on 13.47 +/- acres, is currently 100% occupied! Not a claim many RV Resorts can make this early in the season.
The established "Bidding Procedures and Terms" by the court, requires all interested prospects to be qualified bidders for the auction. As part of those procedures, initial written bids are due on June 17 followed by the Live Auction on June 18.
The complete Bidding Procedures and Terms are posted in the data room / document vault at http://www.LovelandRVResortAuction.com along with other pertinent information for this Bankruptcy Auction; Such as, Complete Court Ordered Bid Procedures, FAQ's, leases, income & expense statements, appraisal, important dates and more.
The website: http://www.LovelandRVResortAuction.com also contains contact information for Sperry Van Ness Auction Services, LLC, the court appointed marketing agent for specific property questions and guided property tours. A 2.0% Broker Cooperation Fee is available to licensed real estate brokers subject to court approval.
"The uptick in the economy is beginning to show signs of improvement as demonstrated with this operating RV Resort and the unusual high occupancy early in the season," states Sperry Van Ness National Auction Director, Louis B. Fisher III. "The property is strategically located in the Commercial corridor of Loveland and a short distance to beautiful Estes Park, Colorado, a major destination point of the Colorado Rockies," continues Fisher.
Founded in 1987, Sperry Van Ness is one of the largest and fastest-growing commercial real estate brokerage firms in the industry, with more than 850 advisors in over 150 locations. The firm is built to immediately market every one of its clients' properties to the entire brokerage community. Sperry Van Ness delivers results for clients through a proven business model that provides advanced marketing and technology tools. Based in Irvine, California, the firm operates internationally and provides brokerage, consultation, asset management, property management, leasing, accelerated marketing, and auction services. Sperry Van Ness transactions total billions of dollars annually in office, multifamily, retail, industrial, self-storage, hospitality and land transactions.
SVN Auction Team members are fully integrated with Sperry Van Ness International and the 850 member advisors. Collectively, the team boasts more than 100 years of experience in planning, orchestrating and conducting successful auctions and sealed bid sales throughout North America, Mexico, Puerto Rico, and the U.S. Virgin Islands.
All Sperry Van Ness Offices Independently owned and operated.