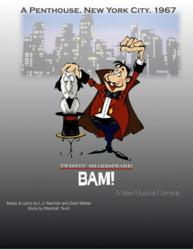 ...rehearsing via Skype or FaceTime makes total sense.
Dallas-Ft. Worth, TX (PRWEB) June 05, 2013
On a New York City street in 2009, Zack Weber first met L.J. Nachsin who was busking in Union Square. Zack joined Larry and quickly drew a crowd as they entertained with an array of rock classics. A bond was formed and the two were soon in Nachsin's studio recording twenty-three original compositions.
Demos of their collaboration were sent to Nachsin's long time friend, Marshall Such, Executive Producer of TradRadPictures in Dallas-Ft. Worth. "When I first heard what Larry and Zack were doing I was blown away. It was like discovering a lost Beatles album!" Such realized the music would be perfect for a new musical. Four years and five different scripts later, BAM! is born.
BAM! is a musical retelling of Shakespeare's comedy, Much Ado About Nothing. To match the music of Nachsin and Weber, the play is set in 1967 with characters, story and dialogue updated to reflect the era.
"One of the nicest surprises was learning that Zack has a background in musical theatre," Such said. "Since he now lives in Austin, it's perfect for him to star in BAM!. Until we are into the final weeks of production, rehearsing via Skype or FaceTime makes total sense."
In addition to his work on BAM!, Mr. Nachsin has enjoyed placements of his music on American Pickers, Last Call with Carson Daly, Pawn Stars and a McDonald's commercial, to name a few. Larry's music is also featured in the films "Inescapable" starring Maria Tomei, "The Sitter" (director's cut) with Jonah Hill and the anti-bullying movie, "Senior Prank."
Zack, who has opened for Maroon 5, Sara Bareilles and John Mayer continues his recording career with two CD's, "Daydreams and Day Jobs" and "Funk!" He also performs regularly with his band in Austin and St. Louis, as well as fronting the Austin version of The Spazmatics.
The team is undertaking a Kickstarter campaign, raising funds to shoot the production as a full-length staged musical video.