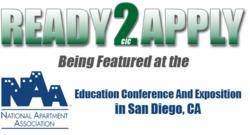 CIC will be releasing its innovative online rental application product for a national audience.
San Diego, CA (PRWEB) June 04, 2013
With the latest addition to CIC's repertoire, the company is looking to simplify the entire rental process for both property managers and new applicants. The new product, Ready2Apply, went live regionally in April met with enthusiastic reviews. Starting in the Southwest, this new simplistic method is prepared for its grand entrance at the NAA Education Conference and Expo!
Ready2Apply offers its users a way to expedite the rental process. Property managers are able to retrieve the information they need to make an educated decision, before they even meet the applicant in many cases. Versatile enough to be added to a company's website or rental advertisement, the application form is branded to match a company's unique requirements. Everything, from the location of the property to what specific questions the applicant must answer, is included. When the process is completed, a manager is notified via email with the completed application pending approval to begin the lease process or to deny the applicant.
How does it work? CIC establishes a resident screening account which allows its clients to access credit reports, nationwide criminal records, and nationwide eviction records from anywhere with internet access. Clients who would like to add Ready2Apply work with CIC to customize the system as much as close as possible to match the criteria requested. This ranges from branding the application to match different properties or the whole company to establishing unique requirements matching a rental policy. Once the account is established, the client is given access to their own portal that allows them multiple options to edit their account as they desire. Each property is given a unique URL which can be used in any online format including a website, craigslist, apartment marketing websites, and even emailed directly to an applicant. The best part about the system – applications are returned with the background check already completed and paid for!
Ready2Apply integrates seamlessly with CIC's Resident Screening, and utilizes an e-signature option that applicants use to approve the processing of their background check. The application fee is also included during the process and paid for by the applicant prior to the property manager being notified. Ready2Apply accepts multiple forms of online payment which can be deposited directly into the management companies account, or paid directly to CIC so a property manager never even sees a bill.