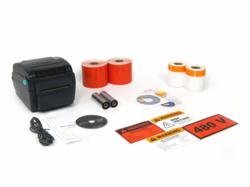 "We didn't have to second guess about arc flash compliance regulations. The package has everything needed to identify electrical equipment the proper way."
Lake Oswego, OR (PRWEB) June 10, 2013
Arc flash is a potentially destructive element wherever high voltage electrical equipment and products are present. Protecting employees, equipment, and property is now easier with a complete package currently offered through Creative Safety Supply – LabelTac 4 Arc Flash Package.
Creating safety nets and providing the right knowledge through the use of proper precautions is priority for business owners. LabelTac Arc Flash Package is an affordable means of keeping employees and property safe. It includes everything needed to jump start a safety program that is also compliant to OSHA and NFPA 70e regulations.
A LabelTac 4 Industrial Thermal Printer is included in the package and is considered the easiest way to print all 5S, pipe marking, facility, lean, and other labels in house. It will print indoor and outdoor signs, stickers, and labels up to 4 inches in height, and 40 inches long making warning and hazard signs easy to see from a distance. The labels are ideal for manufacturing plants, health institutions, entertainment facilities, and many other work environments. The labels are made of durable material that are UV, chemical, weather, water, and wear resistant, and won't fade or smear over time.
An Arc Flash 3.2 Analysis Software is also included in the package to help calculate a facility's electrical system. No more guessing or hours spent finding the information required to determine the proper rating for each electrical component. The software will save a company time and will perhaps improve liability responsibilities.
As one consumer commented about the Arc Flash Package, "We didn't have to second guess about arc flash compliance regulations. The package has everything needed to identify electrical equipment the proper way."
For more information about LabelTac 4 Arc Flash Package, please visit http://www.creativesafetysupply.com/Arc-Flash-Labels or call toll-free (866)777-1360 to speak with a professional representative.