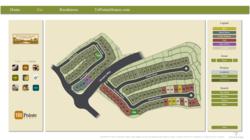 "We live in a technologically savvy world… so the iPad app makes a big impression on them," said Spencer. "It tells them something about the builder, because we're using the most up-to-date technology."
Laguna Niguel, CA (PRWEB) June 04, 2013
Focus 360, an award-winning architectural visualization firm, will unveil its cloud-supported PC and iPad applications, "Focus 360 Next™," at the Pacific Coast Builder's Conference (PCBC) on June 5-6, 2013. Focus 360 is the first company to use cloud-supported software to power a mobile app for builder sales offices.
"This technology is the next big step in the evolution," said Steve Ormonde, co-founder of Focus 360, who will be giving demonstrations at booth #614 at PCBC. "Focus 360 NEXT™ effectively moves all of the builder's community data and assets from the kiosk to the iPad. Since you do not need an Internet connection to run it, sales reps are no longer tied to the sales office. They are truly mobile now, and can take their presentation materials with them while they show buyers around the community."
With Focus 360 NEXT™, sales reps can demonstrate what a floorplan would look like if a den was converted to a bedroom, or help buyers choose the perfect site by filtering out the construction phase and elevation style—all while on the go. There is also a vicinity map, which allows buyers to see what amenities are nearby in the community. (They can even plug in their work address and calculate the drive time.) Other noteworthy features include integrated CRM and social media sharing.
"The great thing about cloud-supported software is that it allows the app to run faster, with no Web page loading time, and generates updates automatically—so users will always have the most current information," added Ormonde.
Multiple communities throughout California and Arizona are already using Focus 360 NEXT™ with great results. Dana Spencer, a regional sales coach and designated broker with Woodside Homes, said the iPad app has made it especially easy for buyers to visualize different floorplan options at the builder's Lyon's Gate community in Gilbert, Ariz. Woodside Homes will also be unveiling it at an upcoming community in Mesa, Ariz.
"We live in a technologically savvy world, and most of our prospects coming in the door have already shopped online and are familiar with the community—so the iPad app makes a big impression on them," said Spencer. "It tells them something about the builder, because we're using the most up-to-date technology."
Over the next few months, an additional 18 communities will be integrating Focus 360 NEXT™ into their sales programs. Several new features, including a virtual finishes program, are also in the works for Focus 360 NEXT™ 2.0. For further information, log onto focus360next.com.
About Focus 360
Focus 360 is a Laguna Niguel-based firm that specializes in creating advanced digital visualization tools for the real estate industry. Since 1989, Focus 360's team of artists, architects, animators and programmers have been creating state of the art sales office software and award winning photorealistic renderings and 3D animations for residential, commercial, and mixed use developments. The combined experience and talent of Focus 360 founders, Steve Ormonde and Brent Chase, has catapulted Focus 360 into the top tier of architectural visualization companies worldwide. For more information, log onto http://www.focus360.com.