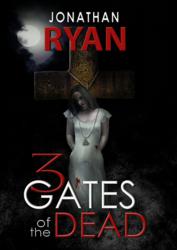 "We also love Jonathan's writing because he seamlessly blends theology, horror and suspense," commented Thomas Ellsworth, CEO of Premier Digital Publishing
Los Angeles, CA (PRWEB) June 04, 2013
Blending spirituality and horror may seem a daunting task for some, but for Jonathan Ryan, who has spoken to thousands of people regarding faith and maintains a column on Dread Central—a widely respected online source for horror news—it is second nature. Jonathan credits summers with his grandmother, who allowed him to check out the scariest books from the library, for imbuing him with the respect and hunger for the paranormal that helped him to write this novel.
In addition to writing 3 Gates of the Dead, to be published by Premier Digital Publishing in both eBook and print on October 15, 2013, Jonathan has written for The Huffington Post, Christianity Today, The High Calling and the renowned interfaith blog site, Patheos.com. With this title gaining praise from fellow authors and reviewers, one can see how Jonathan's in depth knowledge of both the church and the occult has helped to craft this narrative. In the same vein as other horror writers, Stephen King and Dean Koontz, who have successfully blended the dichotomy of faith in God and belief in his adversary—in true Evil, 3 Gates of the Dead also handles this delicate balance with a seasoned writer's finesse.
"We love to be scared. We love myths, haunted houses and ghost stories; it's in our nature. We also love Jonathan's writing because he seamlessly blends theology, horror and suspense—unruly bedfellows at the best of times. We are happy to offer this tale of terror as part of our fall releases—which will be available in digital and print," commented Thomas Ellsworth, CEO of Premier Digital Publishing.
"I didn't grow up on the slasher horror of Jason or Freddy. Instead, I listened to ghost stories around the fire, heard the hush tones of adults talking about the supernatural, and I remember thinking, 'I want to write stories like that someday,'" said Jonathan Ryan, author of 3 Gates of the Dead.
About 3 Gates of the Dead:
In 3 Gates of the Dead, we are introduced to Aidan Schaeffer, a young assistant pastor who is in a constant state of spiritual turmoil, struggling with his faith in God and the hypocrisy of the church. When Aidan learns that his ex-fiancée is the first victim in a string of ritualistic killings, he finds himself in the middle of an even deeper fight. Tormented by demonic threats and haunted by spirits, Aidan throws himself into investigating Amanda's death; all the while supernatural forces have begun to attack the people around him. The more questions he asks, the more he is drawn into the world of a mysterious Anglican priest, a paranormal investigation group and a rogue female detective investigating the murders. As the gruesome rituals escalate, ancient hidden secrets and an evil long buried threaten to rip Aidan's world apart.
Advance Praise for 3 Gates of the Dead:
"Ryan's skill is unsurpassed as he spins a tale of the macabre that leaves you turning each page desperately longing for more… I found each page leading me further into a mystical and, at times, terrifying world that shows glimpses of the other side of goodness, kindness, and Godliness… Just make sure you have plenty of lights on." -Tracy Riva, Midwest Book Review
"Questions of faith wrap its noose around Pastor Aidan Schaeffer's neck and Aidan gets drawn in to a world much more sinister than he ever imagined hell could be. A fast-paced thriller, Jonathan Ryan's THREE GATES OF THE DEAD will scare and delight and keep you up way too late at night."—Susan Wingate, Award-winning author and #1 Amazon Best Seller of Drowning and Spider Brains
For more information, please visit: http://www.premierdigitalpublishing.com/product/3-gates-of-the-dead/
3 Gates of the Dead (ISBN: 978-1-62467-102-9) will be available October 15, 2013 from Premier Digital Publishing—eBook $9.99 and print $16.99: http://www.premierdigitalpublishing.com/product/3-gates-of-the-dead/
Exclusive Offer: Enter to win a signed ARC of 3 Gates of the Dead: http://www.premierdigitalpublishing.com/win-signed-arcs-of-premier-digital-publishings-fall-releases/
About Jonathan Ryan:
Jonathan Ryan is a novelist, columnist, blogger and theologian. Jonathan's work has received acclaim from: Midwest Book Review, Library Journal and a TIME Magazine reviewer. Jonathan draws his inspiration from the time he spent with his grandmother each summer and the books on ghosts and monsters she let him check out of the library. Thanks to this, and a love of exploring all the dark and scary haunts of the Midwest, Jonathan developed a taste for the strange, weird and downright scary.
With an adventurous spirit and giving nature, Jonathan has spent much of his time traveling the world and helping where he can—sometimes at his own risk. He was once mistaken for an IRA member while encouraging dialogue in Belfast between Protestants and Catholics before the Truce. Jonathan has worked with the Navajo and Tohono O'odham nations, as well as brought together a group of atheists and Christians to contribute to relief efforts in Biloxi and New Orleans after Hurricane Katrina.
Jonathan has spoken to thousands of people regarding writing and religion. His writing credits include The Huffington Post, Christianity Today, The High Calling, TAPS ParaMagazine, Intrepid Magazine, the renowned interfaith blog site, Patheos.com and popular horror site, DreadCentral.com.
Website: http://authorjonathanryan.com/
Facebook: https://www.facebook.com/jryanwriter
Twitter: https://twitter.com/authorjryan
Blog: http://www.patheos.com/blogs/geekgoesrogue/
Dread Central Column: http://www.dreadcentral.com/seen-and-unseen-0
About Premier Digital Publishing:
Los Angeles-based Premier Digital Publishing is a leading independent digital publisher and innovator in eBooks, enhanced eBooks and interactive content. Led by a team of digital media pioneers, the company ranks among the top suppliers of quality print and eBook entertainment to the industry's most prominent tablet reader distributors and top-tier retailers.
Website: http://www.premierdigitalpublishing.com/
Twitter: http://twitter.com/pdigitalpub
Facebook: https://www.facebook.com/Premier.Digital.Publishing
For further information, please contact:
Julie Morales, Director of Marketing
Premier Digital Publishing
Los Angeles: (424) 259-2240
julie(at)premierdigitalpublishing(dot)com