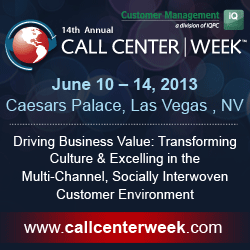 "We've been working on Call Center Week non-stop for the past year and can't wait to see it finally come together."
Las Vegas, NV (PRWEB) June 10, 2013
The customer service community is descending on Las Vegas for the industry-leading 14th Annual Call Center Week. This year's event, themed "Transforming the Multi-Channel Environment," is the world's largest gathering of high-level call center professionals.
From June 10-14, Caesars Palace will host more than 1,200 customer service executives, c-level officers, exhibitors, and sponsors. Attendees will engage in 5 days of panel discussions, presentations, and unique networking opportunities.
Keynote speakers include Maxine Clark, Chief Executive Bear, Build-a-Bear Workshop, Kevin Wilde, CLO of General Mills, Steve Riddell, COO of Blinds.com, Phyllis James, Chief Diversity Officer of MGM Resorts and Lisa Church, CCO of 1st Advantage Credit Union.
"We couldn't be more excited about kicking off the largest Call Center Week yet," said Lisa Schulman, Executive Producer of IQPC's Call Center Week. "We've been working on Call Center Week non-stop for the past year and can't wait to see it finally come together."
Special events during Call Center Week include a much-awaited awards ceremony and a pair of exclusive site tours.
On Thursday, the Winners of the 2013 Call Center Excellence Awards will be announced at a luncheon. An 8-person judging panel voted on 9 highly competitive categories, including Best-in-Class Call Center.
On Friday, there will be a pair of site tours hosted by Zappos.com and Caesar's Entertainment. These limited-availability tours focus on three main themes: streamlining operations, enhancing customer experience, and improving employee culture.
To register for Call Center Week or to inquire about sponsorship opportunities, please visit http://www.CallCenterWeek.com or call 1-800-882-8684.
About IQPC:
IQPC produces 1,500 global events that are custom-tailored to the unique needs of business executives. Founded in 1973, IQPC leverages an office network that spans six continents and a wealth of intellectual capital to provide an unparalleled portfolio of conferences and seminars. For more information, please visit http://www.iqpc.com.
Please contact:
Lisa Schulman
Executive Producer
(212) 885-2714
Lisa.Schulman(at)IQPC(dot)com