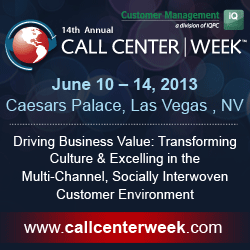 "We had a record amount of innovative call centers apply." - Lisa Schulman, Call Center Week's Executive Producer.
Las Vegas, NV (PRWEB) June 17, 2013
CustomerManagementIQ.com announced the winners of the industry-leading Call Center Excellence Awards. The winners were announced in front of 1,200 customer service executives at the 14th Annual Call Center Week, the largest, most comprehensive call center event in the world.
A panel of proven call center leaders judged a record-number of applications. "We had more innovative call centers apply than ever before," according to Lisa Schulman, Call Center Week's Executive Producer.
The winners represent companies and individuals showing superior thinking, creativity and execution across the full spectrum of call center functions. "I was amazed at the creativity shown by our applicants," Schulman added.
The winners in 9 categories were announced at a highly-anticipated Awards Luncheon. To learn more about the awards and the judging process, please visit http://www.CallCenterAwards.com.
Call Center Excellence Award Winners:
Best in Class Call Center (Over 200 Staff)

Winner – Experian Consumer Services
Runner-Up – Cigna
Honorable Mention – ARI
Honorable Mention – StarTek
Best in Class Call Center (Under 200)

Winner – Bath and Body Works
Runner-Up – UPMC Health Plan
Honorable Mention – Guardian Retirement Services
Honorable Mention – Louisville Gas and Electric/Kentucky Utilities
Contact Center Leader of the Year

Winner – Dennis Foos, Site Director in Grand Junction - Startek
Runner-Up – Steve Ellis, Senior Director Customer Care - EyeMed Vision Care
Honorable Mention – Roy Gaunce, Director / Customer Service and Contact Center Operations, Humana Government Business
Best International Call Center

Winner – Stream Global Services
Runner-Up – Computer Generated Solutions
Honorable Mention – Acronis
Honorable Mention – Genpact
Best Technology Solutions Provider

Winner (tie) – FurstPerson
Winner (tie) – Assurant Solutions
Runner-Up – Citrix
Honorable Mention – Agero
Honorable Mention - AMC Technology LLC
Best Contact Center Learning, Development and Recognition Program

Winner – Discover
Runner-Up – aok.teleservice defacto GmbH, a member of the davero group
Honorable Mention – Telerx
Honorable Mention – TELUS
Honorable Mention – Teletech
Greatest Job Creating a Culture that Inspires World-Class Excellence

Winner – Protection 1 Security Services
Runner-Up (tie) – Fiserv
Runner-Up (tie) – Stellar BPO
Honorable Mention – Denizbank
Best Performance Acting on the Voice of the Customer and Voice of the Social Customer

Winner – Discover
Runner-Up – Protection 1 Security Solutions
Honorable Mention – Valvoline
Best Outsourced Provider

Winner (tie) – Expert Global Solutions
Winner (tie) – Genpact
Runner Up – HGS
Honorable Mention – Hutchison Globalservices
Honorable Mention – TLC Associates
About Call Center Week:
Call Center Week is the world's largest gathering of high-level call center professionals. Keynote speakers included Maxine Clark, Chief Executive Bear, Build-a-Bear Workshop, Kevin Wilde, CLO of General Mills, Steve Riddell, COO of Blinds.com, Phyllis James, Chief Diversity Officer of MGM Resorts and Lisa Church, CCO of 1st Advantage Credit Union. It is being held at Caesars Las Vegas from June 10-14.
To enquire about future sponsorship opportunities with Call Center Week, please visit http://www.CallCenterWeek.com or call 1-800-882-8684.
About IQPC:
IQPC produces 1,500 global events that are custom-tailored to the unique needs of business executives. Founded in 1973, IQPC leverages an office network that spans six continents and a wealth of intellectual capital to provide an unparalleled portfolio of conferences and seminars. For more information, please visit http://www.iqpc.com
Please contact:
Lisa Schulman
Executive Producer
(212) 885-2714
Lisa.Schulman(at)IQPC(dot)com