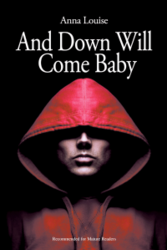 Author Anna Louise – herself a survivor of abuse – uses her storytelling skills to demonstrate what can happen when children are used, exploited, and pushed beyond their limits to survive.
San Jose, CA (PRWEB) June 04, 2013
Monsters don't exist merely in the imaginations of children, living under beds and hiding in closets. Real-life human monsters can be found virtually anywhere, preying on the innocent using weapons of psychological and physical abuse. This new novel features the often naive Sophie Malone, who cares for ten children convicted of sexual crimes – children who have been abused by pedophiles, drug addicts, and, in one case, a priest who can't resist young boys. Sophie's job as foster mother is important to her – a way to change children's lives and stop the cycle of abuse.
"And Down Will Come Baby" is a horror story that blends themes of abuse with idealistic legal and foster-care systems, featuring flawed characters with outdated preconceptions. Author Anna Louise – herself a survivor of abuse – uses her storytelling skills to show what can happen when children are exploited and pushed beyond their limits in order to survive. Eventually, abused children can become the very monsters they were forced to endure: hurting, raping and perhaps even murdering others to feed their own twisted needs.
Featuring both victims and abusers, the novel offers insights into prostitution, drug addiction, priests tempted by the flesh, rejection, child seduction, physical abuse, and rape. All the victims have something in common – Sophie takes them in and tries to help them recover. Although healing takes place, not all of her young charges can overcome their psychological scarring. In the end, these disturbing yet engrossing characters call for society to protect the innocent and report suspected child abuse to prevent suffering, death, and another generation of victims.
Author Anna Louise is a journalist, author, editor, and public speaker. She has survived physical, psychological, and sexual abuse, eventually becoming a foster parent to more than thirty-five children. Louise, who sold her first story in 1987, is already working on her second book, "Through the Rabbit Hole," an in-depth look at the expanding and very profitable business of sexual slavery.
----------
For additional information, please visit http://www.authorannalouise.com.
And Down Will Come Baby
Anna Louise
Dog Ear Publishing
ISBN: 978-1-4575-1494-4 280 pages $14.95 US
Available at Ingram, Amazon.com, Barnes & Noble and fine bookstores everywhere.