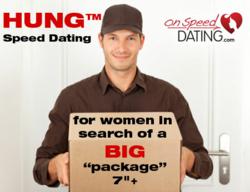 This event is not about getting laid, it was designed to give women who care about a guy's size the peace-of-mind to know before they go.
New York City, NY (PRWEB) June 04, 2013
According to a study published by the Journal of Urology, the average "size" for adult males in the US is 5.08 inches, making OnSpeedDating's upcoming "Hung" speed dating event for women seeking men 7 inches and bigger, anything but "average."
Unlike the majority of NYC dating services that host "traditional" themed events for Jewish singles, professional singles or events based solely on age-range, on Tuesday, July 9th, OnSpeedDating will play host to a 'larger-than-life' speed dating event catering to NYC's well-endowed and the women that love them.
"I'm sure the majority of women at some point have had that moment of shock or disappointment after the third date or at whatever point she finally decides to check out the merchandise," explains OnSpeedDating Co-Founder, Amber Soletti. "This event is not about getting laid, it was designed to give women who care about 'size' the peace-of-mind to know that if and when something develops romantically with any of the men at the event that they will not be disappointed."
Surprisingly, this event "theme" seems to be much more popular with men than women. "We have over 100 men on the waitlist wanting to attend this event," Soletti explains. I really believe it's an ego thing for the guys, although I have had guys say that they always seem to meet women that can't handle what they're working with, so that it's nice for them to be able to come to an event where they know the women will appreciate their bigger size."
The men's sizes are not verified, despite this Soletti says that many men send in unsolicited photos and/or ask to be measured upon arriving at the event. The men are required to display their "size" on their name tag and Soletti says if any women later report that a guy didn't live up to the hype, they are black listed from attending any future Hung events. "We've yet to have any complaints of guys not measuring up," Soletti states.
A great alternative to internet dating, where singles often find themselves inundated with inactive, outdated and/or deceptive profiles, speed dating enables you to meet in person 10-20 singles in one night.
Tuesday's event will run singles $40.00, much more affordable than the majority of speed dating events that can set you back as much as to $50.00 and a small investment for gaining access to an oasis of well-endowed men, one of which could potentially be "the one."
OnSpeedDating is an innovative dating service created for savvy, swinging, city-dwelling singles who are tired of events geared to traditional criteria, like age range, income and personality IQ. What sets OnSpeedDating.com apart is its ability to foster personal connections through super "niche" singles events themed around people's dating deal-breakers; think physical preferences, political views, backgrounds, interests and even fetishes.
This online dating service produces singles parties, networking events, speed dating, wine tastings, dating advice and much more for singles of all orientations across Manhattan and the five boroughs. For more information and to view event schedules visit them at OnSpeedDating.Com.
Upcoming OnSpeedDating events:
"Skinny Minny" Speed Dating– June 11, 2013
"HOT or NOT" Speed Dating– June 18, 2013
"Player's Night" Speed Trivia– June 19, 2013
"Afrodesiac" Speed Dating– June 22, 2013
"Size Matter's" Speed Dating– June 23, 2013
"Beauty & The Geek" Speed Dating– June 25, 2013