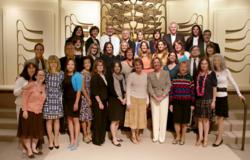 Los Angeles, CA (PRWEB) June 03, 2013
After two years of studying together, the second graduating class of the Florence Melton School of Adult Jewish Learning of Stephen S. Wise Temple gathered together for their graduation ceremony.
The 34 graduates are part of 3000 Melton students in 60 sites around the world attending graduation ceremonies this month. The Florence Melton School of Adult Jewish Learning, a project of The Hebrew University of Jerusalem, is the largest pluralistic adult Jewish education network in the world and in Los Angeles, and Stephen S. Wise Temple is proud to be a part of this global network.
Rabbi Eli Herscher welcomed the guests and likened the Melton graduates to Joshua and Caleb, who took a leadership role, marching forward when others were fearful. He also charged the graduates with the task of finding others to fill their seats once they graduate. Cantor Lam led the congregation in the national anthems of both the United States and Israel, blessed the students with Birkat Hakohanim, and led us in Debbie Friedman's Kaddish D'Rabbanan. On behalf of the graduates Mary Louise Birch and Talia Damian read colorful and reflective poems, while Neda Nikkhoo shared a favorite text she learned in Melton, where Rabbi Simcha Bunam suggests that people keep two pieces of paper, one in each pocket, that say, "For me the world is created" and "I am but dust and ashes." Rabbi David Wonzica shared words of Torah from this week's Torah portion, about tzitzit serving as constant reminders to inspire people to be holy and act ethically in the world. This message was reinforced as the graduates were wrapped in Tallitot and given a final blessing. Melton Director, Rabbi Karen Strok, presented the graduates with their certificates from The Hebrew University of Jerusalem.
The evening was a culmination of two years of enriching study. The graduates agreed that this is not an end to their study, but a significant entry into lifelong Jewish study. Melton offers graduate courses and with Jewish learning now a way of life for them, they look forward to these new study opportunities that Melton at Stephen S. Wise Temple has to offer.