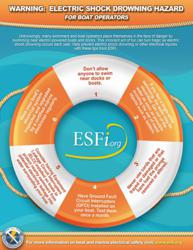 Arlington, VA (PRWEB) June 04, 2013
For many, swimming and boating are synonymous with summer fun. However, there are many electrical hazards that come along with these leisurely summer activities that can result in grave consequences such as onboard electrical fires and electric shock drowning. With that in mind, ESFI developed Boating and Marina Safety resources to ensure that fun in the sun does not give way to an emergency at sea.
"Although there are reported incidents every year, there is a lack of awareness about the dangers of electric shock drowning," said ESFI President Brett Brenner. "Our objective is to educate boat operators and marina owners about the precautions they can take to prevent these incidents and other electrical injuries while out on the water."
ESFI's new Boating and Marina Safety resources include separate illustrated tip sheets that provide electrical safety tips for boat operators and marina owners, a reference guide that explains boat and marina electrical safety devices and a comprehensive toolkit that includes safety tips and additional information on electric shock drowning. All resources are available for download at no cost on ESFI's website.
Reduce the risk of electric shock drowning and common boat electrical hazards with these handy tips from ESFI.

Don't allow yourself or anyone else to swim near docks. Avoid entering the water when launching or loading your boat.
Always maintain a distance of at least 10 feet between your boat and nearby power lines.
If you feel a tingle while swimming, the water may be electrified. Get out as soon as possible avoiding the use of metal objects such as ladders.
Have your boat's electrical system inspected and upgraded by a certified marine electrician regularly.
Have Ground Fault Circuit Interrupters (GFCI) installed on your boat and test them once a month.
Consider having Equipment Leakage Circuit Interrupters (ELCI) installed on boats to protect nearby swimmers from potential electricity leakage into water surrounding your boat.
Only use shore or marine power cords, plugs, receptacles, and extension cords that have been tested by Underwriters Laboratories (UL), Canadian Standards Association (CSA) or ETL SEMKO (ETL).
Never use cords that are frayed or damaged or that have had the prongs removed or altered.
Never stand or swim in water when turning off electrical devices or switches.
For ESFI's complete collection of Boating and Marina Safety resources, visit http://www.esfi.org.
ABOUT ESFI:
The Electrical Safety Foundation International (ESFI) is dedicated exclusively to promoting electrical safety in the home and the workplace. ESFI proudly sponsors National Electrical Safety Month each May, and engages in public education campaigns throughout the year to prevent electrical fires, injuries, and fatalities. To learn more about ESFI and electrical safety, visit http://www.esfi.org.