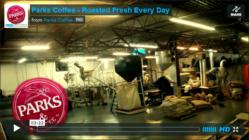 Carrollton, TX (PRWEB) June 04, 2013
Premier office coffee service company Parks Coffee (Parks & Co / ProStar Services) has long offered its customers coffee selections from numerous name brands, like Starbucks, Folgers and Green Mountain Coffee. And in 2005, this family-owned and -operated business began sourcing, roasting and blending its own coffees. "We felt like we needed to be able to offer our customers more selection, and a fresher product," says Founder and President Randy Parks.
In its new three minute video entitled "Parks Coffee - Roasted Fresh Every Day", the Parks Coffee roasting and procurement team show their hands-on approach to meeting the tastes and needs of their customers. Service Director Bryan Reasor leads the charge in sourcing green (raw) coffee beans, "If we sell our House Blend coffee one month, we want it to taste the same the next month. So, there's a lot of processes and a lot of care that goes into providing that." Randy adds, "We sample those coffees; we do some cuppings. We ensure our quality for our whole system, that we get only the very highest grade beans available to us."
Each shipment of 100% Arabica green coffee beans received is checked for defaults and cupped or tasted before roasting in a larger batch, to ensure a quality end product. "If we can touch it as much as possible when it gets here, we can guarantee that it's going to be good," says Branding Manager Clay Parks. "Being a family roaster is a great place to be because you take more care. You care about the product because it has your name, and you want to be proud of what's behind it, but also too, you know that you're solely responsible for the customer experience at the end. I think we do a great job with that."
Parks Coffee (Parks & Co / ProStar Services) is a market leader in the coffee service industry, Parks Coffee provides brand name products such as Starbucks Seattle's Best, FLAVIA, and Keurig. The company has won such awards as National Automatic Merchandising Association's (NAMA) Coffee Service of the Year award, and Parks Coffee Owner/President Randy Parks has been named National Coffee Service Association's (NCSA) Operator of the Year award and the FLAVIA Outstanding Distributor Award.
Media Contact: Beth Seeber, 8008897827, bseeber(at)prostarservices(dot)com