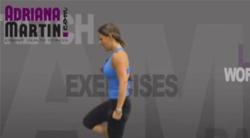 It is the perfect multitasking move, as it forces the body to work on more than one muscle group at a time
Sunrise, Florida (PRWEB) June 05, 2013
As a health and fitness ambassador Martin understands the importance of delivering a simple yet powerful message to women who look for a healthier lifestyle. "There's so much information out there" says Martin "therefore women are suffering from information overload" she continues "my leg exercises series is the opposite of complicated". In fact, "simple" is one of the key terms that define Adriana's award winning methods, as she believes that an easy to follow nutrition and fitness guide is what women need in order to get results.
With the re-launch of Martin's website and her astonishing ever-rising popularity on Facebook, Instagram, YouTube and Twitter Adriana Martin is taking the social media world by storm, proving that her concepts are what women are indeed looking for. Martin not only has the scientific proof behind all her fat loss methods, she now has the social proof as well. Countless testimonials are added to her already existing arsenal and can be reviewed by anyone who visits her site http://www.adrianamartin.com
This week's Leg Exercises Series features one of the most powerful workouts for women today: Single Leg Exercises which works multiple muscle groups allowing the body to tone thighs, calves, butt, quads and hamstrings. "It is the perfect multitasking move" says Adriana "as it forces the body to work on more than one muscle group at a time".
These workouts are designed for the busy woman that wants to get in shape but feels like she doesn't have time. They are designed to be a solution for those who don't have 2 extra hours a day to spend at the gym. In addition, they can be performed at home or at the gym. The idea is to get women motivated to get moving and to get them to see results as quick as possible. Because, women that are experiencing results are more likely to stick to a healthier lifestyle in the long run.