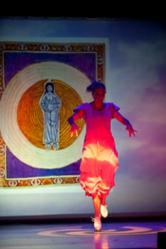 St. Hildegard challenges all of us to be creators. She tells us, we must infuse ourselves with the fire and the light and express our creativity in which ever ways our hearts are calling us to be useful in the world.
-Jeannine Goode-Allen
Boulder, CO (PRWEB) June 04, 2013
Viriditas Productions, LLC presents a musical theater performance,Feathers on the Breath of God (Feathers) from July 18 to July 20, 2013 at 7:30pm, and on July 21 at 2:30pm at the Bas Bleu Theater, 401 Pine Street, Ft. Collins, CO. Feathers, written by Jeannine Goode-Allen and directed by David Sharp, illuminates Goode-Allen's journey as an artist, inspired by the life and work of the 12th-century mystic St. Hildegard von Bingen.
Prophetic and bold, von Bingen was a Benedictine abbess, poet, composer and healer who took incredible personal risks to fight for the rights of women and the oppressed, centuries ahead of her time. Last year, Pope Benedict XVI named von Bingen a saint and conferred on her the Catholic Church's highest honor, Doctor of the Church. Von Bingen is one of 35 so named in 2,000 years and only one of four women.
Feathers on the Breath of God is replete with an original musical score composed by Goode-Allen, Sharp and musician, Gary Grundei. Tickets to the performances are available online at basbleu.org or during box office hours at 970-498-8949.
EXHIBIT: Viriditas Productions, LLC will open St. Hildegard's Journey Through The Senses: A Traveling Exhibit, at the Gallery Bleu from July 16th to 21st. The exhibit was created so that viewers could experience St. Hildegard von Bingen's world on a sensory level. Goode-Allen commissioned handcrafted art pieces made by calligraphers, stained glass and model builders from Greeley, Colorado that embody the beauty, warmth, and power that is the life and work of Hildegard of Bingen.
In the exhibit you will find replicas of her illumination paintings, a calligraphed letter to St. Bernhard of Clairvaux, models of the Rupertsberg and Eibingen Abbeys, a banner of Emperor Friedrich Barbarossa, replicas of stained glass windows from the St. Gordianus and Epimachus Church in Bingen-Dietersheim, an excerpt of St. Hildegard's letter to Friedrich and more.
EVENT: Preceeding each Feathers performance, from July 18-20 from 6:30-7:30pm and on July 21 from 1:30–2:30pm, ticket holders are invited to visit the gallery and enjoy a sampling of St. Hildegard's parsley heart wine and nerve cookies served by Goode-Allen. For further information please call 888-612-8189.
"St. Hildegard challenges all of us to be creators," says Jeannine Goode-Allen. "She tells us, we must infuse ourselves with the fire and the light and express our creativity in whichever ways our hearts are calling us to be useful in the world. My connection with her and her work has brought profound strength, joy and peace into my life. It has transformed me and inspired my work with those who seek to tap into and manifest their creative potential."
Photo credit: Rebekah West