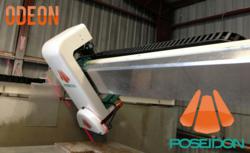 To Be the Best Craftsmen, You Need the Best Tools- Go With The ODEON!
Punta Gorda, FL (PRWEB) June 24, 2013
In the stone industry, bridge saws are the lifeblood of fabricators and the driving force of all granite and stone businesses. There are countless models and brands of bridge saws on the market with a range of capabilities and features. But a new one has joined the race and is set to leave the others in the dust. "This model offers true plunge cutting which only a few other brands can do in the industry," says Eddie "Jet" Vertiz, Executive Engineer at Poseidon Industries. "We should know since our staff has the experience of having dealt with all brands of machinery in the stone industry."
Poseidon Industries is now offering a new bridge saw model that combines simplicity and complexity to make a prime stone cutting machine. It is called the Odeon and basks in the limelight of its namesake stage. Not only does the machine cut normal rectangles and squares, but it is fully mitre cutting and plunge cutting capable with a 45 degree mitre function. Outfitted with a 20 HP motor-made in Italy, the Odeon will cut your processing time and help you exceed your current production output. The hydraulic tilting table can work with up to a 20" blade and is equipped with a laser pointer, making all your cuts clean and precise. The Odeon is furnished with a touch screen, creating an easy to use system and eradicating the guess work of the cutting process. "We have taken the experience of our engineers who have dealt with Park, Zonato, GMM, Marmo Meccanica, Denver, JMM, Matrix, Tecnomac, Camma, and many other bridge saw machines, to come up with a machine that has everything that every fabricator needs," enthuses J.C. Cruise, Operations Manager at Poseidon Industries, Inc.
The purchase of the Odeon comes with a premium warranty, guaranteeing that it works beautifully and efficiently. And, being completely manufactured and assembled in the United States of America, the machine will ensure all-American quality that would make Rosie the Riveter envious. It is designed to utilize your workshop space to its fullest, aiding in making your workroom balanced and organized. The Odeon will also add a clean, modern look to any workroom, no matter how old. The Odeon comes with very durable custom fiberglass covers for its blade shroud and blade carriage protector. As a bonus, you can ensure your machine stays rooted and supported with Poseidon certified steel legs (optional). "Concrete walls are the best way to go, however, some of our customers need to have fast set up times in case they must move shops," explains Jet.
Machines are available fast in comparison to other USA manufacturers. An Odeon can be delivered in only 4 short weeks as Poseidon Industries tries to create machinery for stock with any orders it receives. "If we sell 2 machines, we try to produce 4. We would like to stay ahead of the demand as customer service is our #1 priority," admits J.C. "It isn't easy to keep up with the demand while trying to deliver all the other types of models and machines we offer; however, we are proud to begin manufacturing in the USA, as it is not the norm in the stone industry with 90% of the brands coming out of Italy." Poseidon is bringing back "Made in the USA", something that is not common these days.
Be sure to visit Poseidon Industries by clicking here!