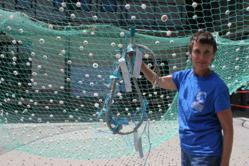 Ghost nets are rising and falling in the ocean, silently moving and capturing anything and everything. Judith Selby Lang, Marin County, CA artist.
Sausalito, CA (PRWEB) June 04, 2013
Starting on World Oceans Day, June 8, visitors to The Marine Mammal Center will be able to touch, learn and participate in a new art installation called, Indra's Net.
Legend has it that Indra, a Hindu god, cast a jewel-encrusted net over the infinite universe. Every jewel reflected every atom of the universe and every jewel reflected every other jewel - a metaphor representing the interdependence of all life. At the heart of The Marine Mammal Center, suspended across half of the central courtyard, Marin artists Judith and Richard Lang have put a modern-day twist on the legend by creating a sculpture out of 100 pounds of trawl net retrieved by beachcomber Richard James, and 1,000 bottle caps collected from beaches in Marin County. Each bottle cap will contain a tiny mirror, bringing Indra's legend and message to life: we are these mirrors and our every action reflects the actions of all others.
In addition, over 1,000 repurposed plastic tags with handwritten messages of hope will hang from the net. In May, children and adults visiting the Center crafted their own messages on these tags that will represent promises to be more aware, change behaviors and take actions that help make the ocean a healthier place for all marine life. At the "Promise Station" near the sculpture visitors will get the chance to compose their own messages to help our marine mammal friends and their ocean home. These additional promises will be added to the net throughout the year.
"Indra's Net is a metaphor for our interconnectedness and an invitation to use our creative imaginations to envision what a healthy ocean habitat might look like," explained Richard Lang. "This particular trawl net got loose from its intended use as a fishing net and sadly became one of thousands of ghost nets set adrift in the ocean each year."
Indra's Net is the second in a series of installations within The Ghost Below exhibit at The Marine Mammal Center. A private preview of the sculpture is set for June 5.
Starting June 15, the installation will have a digital component at TheGhostBelow.org where visitors can learn more about ghost nets and the effects of ocean trash through videos, trivia and stunning imagery, all created by Swirl, an integrated marketing firm headquartered in San Francisco. Visitors from near and far will be able to submit their promises online and cast their own nets globally by sharing those promises with their friends on Facebook and Twitter.
In December 2012, visitors were first introduced to the Ghost Net Monster sculpture and The Ghost Below exhibit – a creative platform for environmentally focused artists to share their messages and stories about ocean health. After the Langs learned of the death of a sperm whale that had ingested approximately 450 pounds of ocean trash, mainly "ghost nets" - derelict fishing nets that are abandoned or lost by fishermen - and other plastic scraps, they felt compelled to create a 6-foot-wide by 9-foot-tall hulking "creature" from 162 lbs of that net. It is mounted on a frame made from repurposed scrap aluminum created by fabricator Alex Treu. The nets and rope at the base are from the "plastic soup" known as the North Pacific Gyre and were collected by members of Project Kaisei. The face is made of plastic trash from Kehoe Beach, CA.
Standing guard in the Center's courtyard, The Marine Mammal Center hopes both the Ghost Net Monster and Indra's Net will awaken people's senses and motivate everyone to take action to address The Ghost Below - the vast problem of trash, derelict nets and other human-caused dangers that haunt marine life and threaten the health of The Marine Mammal Center's many patients.
"We hope The Ghost Below exhibit will be fun, educational, awe-inspiring and incite action," explained Dr. Jeff Boehm, executive director at The Marine Mammal Center. "Every little thing counts, including properly disposing of trash, recycling, and making other conservation activities a priority in our lives." The Ghost Below exhibit runs through the end of 2013. It is generously sponsored by PG&E: "Fostering Environmental Sustainability at The Marine Mammal Center."
Learn more at http://www.MarineMammalCenter.org/ghostbelow.
How You Can Prevent Ocean Trash:

Refuse – Refuse to purchase bottled water and avoid using straws and plastic utensils.
Reduce – Reduce the resources you use; use cloth rags in place of paper towels and choose products with less packaging.
Reuse – Bring your own re-useable bags to the store and avoid single-use plastics.
Recycle – Recycle all of your plastics, paper and glass. And remember to compost all your leftover food items.
About the Artists:
Since 1999, Plastic Forever has been a project by Judith and Richard Lang to collect plastic debris from Kehoe Beach in Point Reyes National Seashore. After carefully collecting and sorting the bits of plastic, they fashion it into works of art that show the material as it is while telling an underlying story about our throw-away culture and our dependency on what they call "thermoplastic junk". They've had over 40 exhibitions located in a range of places from local libraries to the SFMOMA and most recently in Hong Kong. Learn more at BeachPlastic.com.
About The Marine Mammal Center:
The Marine Mammal Center is a nonprofit animal hospital, research and education center dedicated to the rescue and rehabilitation of sick, injured and orphaned marine mammals, and to the study of their health. Since 1975, the Center has been based in the Marin Headlands, Sausalito, CA within the Golden Gate National Park, and has rescued over 18,000 marine mammals along its 600-mile rescue range. Visitors to the Center have the unique opportunity to learn about marine mammals through viewing areas, educational exhibits and docent-led tours. FREE admission, open daily 10 A.M. – 5 P.M (except Thanksgiving, Christmas and New Year's Day) MarineMammalCenter.org.