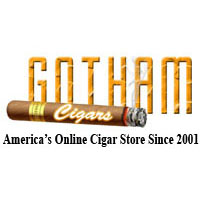 This Father's Day take advantage of Gotham's 5 featured deals, as well as the many other great discounted cigars and gifts.
Miami, FL (PRWEB) June 04, 2013
Finding the right gift for Father's Day can be tricky, so Gotham Cigars has worked to create some no brainer gift ideas. Cigars are the perfect gift for the dad in your life; he can take them with him golfing, or just to hang out with his buddies. Gotham Cigars carries many top brand cigars like Padron, Gurkha, Alec Bradley and Rocky Patel as well as top machine made cigar brands such as Swisher Sweets, Phillies, Captain Black and Remington. Gotham Cigars also carries top brand, lifetime warranty cigar accessories like Xikar lighters and cutter that are a perfect gift if you are not sure what dad's favorite cigar is this year. Gotham has many gifts available this Father's Day, from high end Lotus lighters to inexpensive Jet Line Torch lighters.
Gotham Cigars is driven to give customers the best deals on all of their cigars with some of the lowest prices around, and this Father's Day is no exception. Every month at Gotham Cigars, a new batch of spectacular deals go out to our customers through emails, Facebook, Twitter and Google+ and recently Gotham has launched 5 more featured deals this month and continuing on in June. These 5 featured deals are perfect for Father's Day because they include highly rated premium cigars as well as excellent cigar accessories. These deals feature many popular high quality cigars such as Alec Bradley, Gurkha, La Aurora, Nestor Miranda, La Zona and Murcielago and unbelievably low prices.
These deals offered by Gotham Cigars are remarkably priced down to offer their customers the chance to shop great offers on widely known brands without breaking the bank. This Father's Day take advantage of Gotham's 5 featured deals, as well as the many other great discounted cigars and gifts. Gotham Cigars offers many gifts starting as low as $10 and range up to high end cigar boxes and humidors up to $250. This allows customers to find discounted cigars or cigar accessories that fit any budget.
Gotham Cigars offers customers one of the country's largest and freshest selections of Premium Cigars, Machine Made Cigars, Filtered Cigars and Humidors. Selling top brands like Alec Bradley, Gurkha, Acid, Phillies, Swisher Sweets and many more has kept Gotham a top pick among other cigar retailers. Gotham Cigars has received five-star ratings by the most trusted online comparison websites for its huge selection, fast shipping and great customer service. Everyday customer service is ready to help with any questions or issues their customers have, whether it is a cigar recommendation, to place an order, or an issue with an order, Gotham is always ready to help.
Gotham Cigars has become a favored destination for buying cigars and accessories online in the US. All of their products have been thoroughly inspected by their manufacturers prior to arriving at the facility to ensure the highest quality for their customers. To learn more, visit http://www.gothamcigars.com.