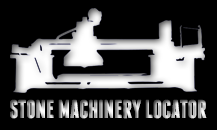 The #1 Source for Reliable Used Stone Machinery
Punta Gorda, FL (PRWEB) June 25, 2013
The stone industry has been overloaded with a barrage of different used equipment since 2007 and 2008. "In the past 5 years, there has been no better time to purchase equipment in the history of the stone industry," says J.C. Cruz, operations manager at NRS Equipment, the company behind the sales and service of hundreds of used pieces of equipment in the stone industry each year. "During the boom here in Florida back in the 'good ole days' (2003-2007), we couldn't produce machines fast enough for the huge demand of granite shops that were opening up. Now, we see it coming back and the good used equipment is finally getting bought up," shares J.C.
NRS Equipment, Inc. is the only company in North America to have successfully renovated and installed virtually every brand of equipment in the industry. From Northwood, to Park, to Breton, to Bavelloni, and not excluding Bimatech, Intermac, Ravelli, Prussiani, GMM, Montresor, Denver, and the list goes on and on-NRS has done it all almost. "We are starting to see it turn around finally as we notice that new equipment is beginning to sell again," states Eric Perez, trained technician at NRS Equipment, Inc.
It is looking like there is a turn-around in the stone machinery market. This means that shop owners will want to move fast and take advantage of the small inventory left of good pieces of used stone equipment. Stonemachinerylocator.com offers that service from a reliable standpoint as the website has been in activity for the past 7 years and continues to offer an infinite amount of options for stone equipment buyers. NRS Equipment offers the possibility of trading in customers' used equipment towards NRS' guaranteed used equipment inventory. No other company in the USA performs this service on the scale that NRS Equipment does. "Our engineers and staff have no problems working on any brand of equipment since we have been doing this for the past 12 years," states Joe Alva, Director of Sales. This gives new customers who have old headaches the perfect way into something new or used that is guaranteed to work.
To see the selection of stone equipment still in the market, click here.