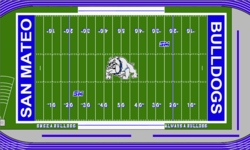 RANCHO CORDOVA, CA (PRWEB) June 04, 2013
Hellas Sports Construction debuted a strong Northern Californian presence this month by confirming projects with Folsom Cordova Unified School District, Bishop O'Dowd High School, College of San Mateo and San Leandro Unified School District. This comes as Hellas continues to experience immense growth across the West Coast. "I'm quite proud that several of these customers have switched to Hellas," stated Reed Seaton, President and CEO of Hellas. "Our customers are well-informed and educated. They want the best-in-class and that is what our products deliver."
Just northeast of Sacramento, Hellas brings it's proven brands Matrix® Turf and epiQ TRACKS™ to Folsom Cordova Unified School District to outfit the 2010 State Champion MaxPreps Folsom Bulldogs as they commence pursuit of another ring and this time on blue turf. In addition, Cordova High School, also of the district, will trade up for a new field and track. "We are very excited to be working with Hellas to replace our synthetic turf fields at Cordova High School and Folsom High School. The blue field at Folsom High will further promote the pride and enthusiasm the students, staff and community have for their Folsom Bulldog teams," said Matt Washburn, Director of Facilities & Planning at Folsom Cordova Unified School District. Matrix® Synthetic Turf will bring its specific design philosophy of a multipurpose field that supports multisport functionality. Underneath the new cutting edge artificial turf surface, Hellas also will prepare the sub-base, drainage and install their exclusive CUSHDRAIN™ to enhance the playability and extend the lifespan of the field.
The Hellas footprint will also make its mark in Oakland as the prestigious Bishop O'Dowd High School will unveil a new Matrix® Turf multipurpose field to host play of not only football, under the helm of Pittsburgh Steeler alumni Coach Hardy Nickerson, but soccer and lacrosse. The top college prep school will, in addition, add an epiQ TRACKS™ built and installed by Hellas. The upgrades will provide safe cutting edge surfaces for over 700 interscholastic athletic students to perform at the highest level.
Rounding out the roster, the 2009 NorCal Conference Champs College of San Mateo Bulldogs, have also set their sights on Hellas. Construction began late May with a sneak peek rendering leaked via social media. "Our CSM Bulldog is now officially trademarked to our school," posted one avid follower, and will play field centerpiece and source of pride to the state of the art field this fall and years to come. "We've seen the California demand for premium synthetic turf gain significant momentum over the past year and that's how we know our customers are doing their due diligence," commented Seaton.
About Hellas Sports Construction
Hellas Sports Construction is a nationwide contractor with a strong reputation for delivering premium-quality sports construction projects across the United States. In addition, Hellas has the ability to custom-manufacture and install proprietary brands of synthetic surfaces for field sports, running tracks, and tennis courts, by controlling all related operations. In addition to a headquarters in Austin, Hellas operates several US-based offices. Clients include the NFL Experience, Cowboys Stadium, Baylor University, University of California, Berkeley, Idaho State University, the Alamodome, Northern Arizona University, University of North Carolina at Charlotte, University of San Diego, University of Georgia and various other prominent high schools, collegiate institutions and stadiums. For more information, visit hellasconstruction.com, matrix-turf.com and epiq-tracks.com.
Hellas Media Inquiries
Nicole Hisle, (512)250-2910
info(at)hellasconstruction(dot)com