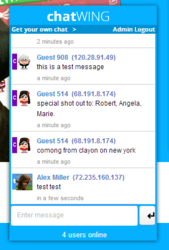 Cambridge, MA (PRWEB) June 08, 2013
Chatwing Team is upping the bar of global communication by introducing the newest feature of its acclaimed chat app. The new feature is called chat network, and its goal is to create convergence between dozens of user chatrooms across different niches. According to Chatwing developers, the chat network can bring enhanced exposure to any website or blog.
The chat network feature is another effective add-on to the Chatwing chat software. With this, web users can learn more valuable information about the niche they are specializing. Apart from that, they can also add new friends and acquaintances. Chatwing's developers have also indicated that the chat network feature can create a snowball effect to a website's visibility: the greater the connection, the higher the traffic rate.
The first test run of the chat network is under the English network. The users arrived in a trickle at first, but it grew in just few hours of consecutive usage. To cope with this, the Chatwing Team will integrate more networks pertaining to different online niches. The developers of the company are also contacting bloggers and web users regarding these new niches.
To help web users gain more information about the schematics of the Chatwing chat app, the developers will emphasize the updates in the Chatwing Facebook page. The page will also serve as a source of feedback templates for Chatwing platform upgrades.
About Chatwing.com
Chatwing.com specializes in the new field of website chat. Over the years, the Chatwing team has introduced live chat widget for hundreds and thousands of blogs. The Chatwing application bridges people from many parts of the world, creating global synergy through the Internet. The chat box can be installed in just seconds, and it can be used for varying purposes such as leisure and Internet marketing. It also allows a user to customize the size, color, and name of the widget.