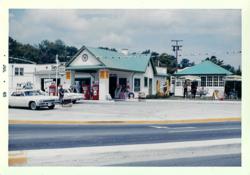 This is about keeping history alive.
Gloucester, VA (PRWEB) June 03, 2013
The Fairfield Foundation will open its garage doors to the public and invite the community to share its memories of the Edge Hill Service Station on Saturday, June 15 from 1 to 4 p.m.
The event is part of a Virginia Foundation for the Humanities grant project to capture the oral histories of the community and residents' stories of their interaction with the station, as well as an opportunity for the public to look inside the iconic gas station and see the restoration progress.
The Fairfield Foundation, a non-profit founded in 2000 and dedicated to teaching and learning about history through archaeology, preservation and education, purchased the Edge Hill Service Station in 2010. The station will serve as the Center for Archaeology, Preservation and Education (CAPE).
The center allows the Foundation to conduct research and programs both in Gloucester County and across eastern Virginia, helping property owners, educational institutions, and local governments preserve and learn from their historical resources, ensuring they survive for future generations to appreciate and enjoy.
"We welcome anyone with a story - no matter how brief or how recent," said Thane Harpole, who co-founded the Fairfield Foundation with David Brown.
"Our restoration of the station is the perfect moment to record its history," Brown said. "As we put the building back together piece by piece, it's important to record its history - from the most mundane moment to the day a duck-pin bowling truck hit the gas pump island out front."
Anyone interested in talking with the Fairfield Foundation can record an oral history. All interviews will be carefully transcribed and archived, and help preserve and interpret 20th century Gloucester life.
"As a cornerstone for life on Main Street, but also a major rest stop for travelers in eastern Virginia, this station is the backdrop and often the stage for history in Gloucester," Harpole said. "Our foundation is dedicated to preserving that most precious of all historical resources: our memories. We are preserving the past for the future."
Fairfield Foundation staff and volunteers will lead tours of the station under renovation, and also speak to its future as a center for education, archeology and preservation.
Can't make the event but want to support the efforts?
Become a member of the Fairfield Foundation. All members receive a quarterly newsletter highlighting the various activities, along with updates of recent finds and upcoming events.
Memberships are welcome at any level from volunteer hours to corporate sponsorships.
Donate online at http://www.fairfieldfoundation.org or send a check to P.O. Box 157, White Marsh, Va. 23183.
"This is about keeping history alive," Harpole said. "Recording these histories before they disappear is one of our primary goals with restoring the Edge Hill Service Station."
Find the Fairfield Foundation on Facebook and learn about upcoming public archaeology events at http://www.fairfieldfoundation.org/.